Homecoming week culminates in Pep Fest
Ping pong. Donut eating. Hungry hungry hippos. Clapping, rallying cheering students turned up the volume in Briggs Gymnasium on Oct. 6 for the annual homecoming Pep Fest. The Pep Fest celebrates Spartan Spirit, first by awarding those students who donned the most festive costumes during the dress-up days.
"Pep Fest is fun every year, but I really tried to embrace every moment of it this year as it was my last. My favorite part is seeing everyone cheering each other on and having so much school spirit," senior Ashley Jallen said.
In the highly anticipated Ping Pong Tournament finale, seniors Rahul Dev and Ryan Kuntz reigned victorious over juniors Husaam Qureishy and Jonathon Pomerantz.
New events, like Hungry Hungry Hippos and Elephant, brought curious energy to Pep Fest this year.9th grader Julia Lagos won the Hungry Hungry Hippos challenge, where four grade-level representatives played to win. In Elephant, competitors knocked down water bottles with nylon tights weighted with a tennis ball in the toe are fit on the player's head. The winner of this hand-free competition was senior Ben Konstan.
The annual donut on a string eating competition was won by senior Breandan Gibbons.
"
My favorite part is seeing everyone cheering each other on and having so much school spirit"
— senior Ashley Jallen
In a Pep Fest tradition, fall sports captains participated in a crowd scavenger hunt, with the speediest captain taking the prize. The winner of this was the Boys Varsity Soccer team, and 9th grader Michael Bagnoli served as the team's representative.
To conclude the Pep Fest, seniors and 2017-18 Spartans Breandan Gibbons, Izzy Denny and Kelly Fiedler led the Spartan Beat. Afterward, students congregated by the soccer fields to Storm the Field before Girls Varsity Soccer played the Homecoming game against Northfield, a 3-0 win.
About the Contributors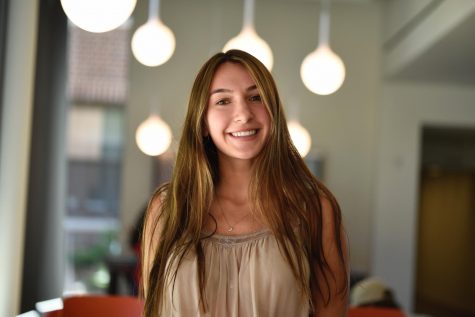 Mimi Geller, Director of RubicOnline
Mimi Geller is the Director of RubicOnline. This is her fourth year on staff. Mimi believes that high school journalism connects people by sharing their...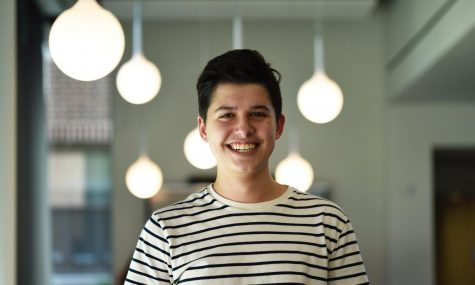 Ethan Dincer, Photojournalist
Ethan Dincer is the Photojournalist at RubicOnline. This is his second year taking photos for RubicOnline. Ethan affirms the importance of visual aid...