Gymnastics team focuses on improvement
Hang on for a minute...we're trying to find some more stories you might like.
The girls gymnastics team, joint with Cretin Derham Hall and Nativity, totals to six athletes and consists of one SPA MS and two US students: ninth graders Fiona Rucker and Katya Sjaastad.
"I think that in terms of building the team, everyone has been trying really hard to get to know each other. Its more difficult to make deep connections with some of the other girls because we don't all see each other at school," Sjaastad said.
It hasn't stopped them from working to build a positive team dynamic.
It's a challenge to win big, as gymnastics is scored by the sum of a team's points, composed of individual gymnasts' performances. Because of this, the tiny team faces a difficult challenge.
"We haven't won anything [as a team] yet," Rucker said.
The team focuses on individual improvement and performance. Teammates have won a number of individual awards this season.
Rucker is a new gymnast while Sjaastad has been a competitive gymnast for five years, and the two strive for personal achievement and enriching the team dynamic.
"It was weird at first, but then it got better," Rucker said. "We're a very close team because we're so small… we're very supportive and energetic."
Fan base is limited, and the gymnasts invite students to attend a meet: "[They]…should know that it is a lot different than other tournaments or games. Gymnasts will be doing amazing things and it is important to know how individual and mental gymnastics can get. Each move a gymnast makes in her routine is judged and many things she does she has practiced for years," Sjaastad said. "I think that gymnastics is beautiful to watch and that when our team doesn't win, we still can get inspiration from the other teams skill and dedication."
This story is reprinted from The Rubicon print edition: Feb. 6, and updated to reflect corrections and an added interview from Katya Sjaastad on Feb. 15.

About the Writer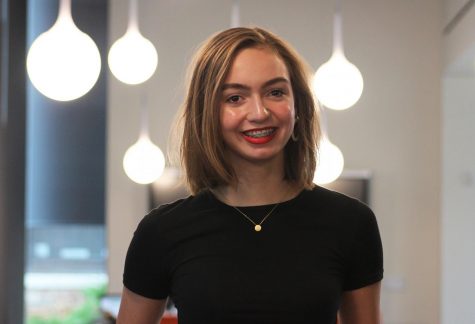 Lucy Sandeen, News Editor
Lucy Sandeen is The Rubicon's News Editor for the 2017-2018 school year. In her sophomore year, her love for writing, researching, and searching for...