Girls varsity volleyball falls to Saint Agnes, concludes season
After a heartbreaking loss against Saint Agnes on Oct. 28, the girls varsity volleyball team's season has come to a close in their first section game.
The Spartans' nerves came out in the first set, ultimately falling 14-25. However, once they got their confidence up with an 11-4 lead early in the second set, the team chemistry shined as they connected passes well and maintained a high level of communication among players. By keeping level-heads and always staying ready, SPA won the set 25-15. The Aggies matched the team's determination and patience, taking the third set with a three-point lead. As more students filled the bleachers, the energy on both sides of the court intensified.
"It's important to come and support these games cause there are only so many left. As a junior, these are my last two seasons to get some silverware in the sports cabinets. Having fans at my games definitely makes me wanna play better and helps comfort a loss when we need it. Overall, I just enjoy watching my friends play a sport they love and letting them know they did well," said junior Simon Assefa.
Libero Natalie Vogenthaler and middle Solvej Eversoll played a key role in the team's consistency and offensive aggression. With powerful and driven serves, Vogenthaler forced the opposing players out of position, eventually setting her teammates up to capitalize off of weak returns. Eversoll used her staggering height to her advantage as she made countless blocks and caught her opponents off guard with angled spikes. Giving every point all that they had, both girls helped the team stay in long rallies and keep Saint Agnes on their toes.
Following the Spartans' domination of the third set with an outstanding eight-point lead, both teams had won two sets, causing them to play a tie-breaking fifth set. In this race to get a decisive two-point win, the set was played to 15 points rather than 25, upping the pressure to perform well and increasing tensions between the teams.
Winning the first point of the set, SPA felt the unwavering support of their parents, friends, and classmates echoing throughout the gym. The team continued to deepen their lead with hard-fought points, and everyone was on edge when the score hit 14-11. Sadly, the Spartans began to lose their rhythm as the Aggies found new cohesiveness and countered many attacks that came their way. After a strategically deep ball into the back of the court at 14-15, the game resulted in a Saint Agnes victory.
"
We are excited to grow our skills during the off-season and see what we can do next year with a more experienced team"
— Solvej Eversoll
"While we obviously wanted a different outcome, I'm proud of the way we played this season with a fairly young team and several last minute coaching changes. We are excited to grow our skills during the off-season and see what we can do next year with a more experienced team," said Eversoll.
Though the outcome was unfavorable, the girls left everything on the court and showed resilience until the very end.
View Comments (1)
About the Contributor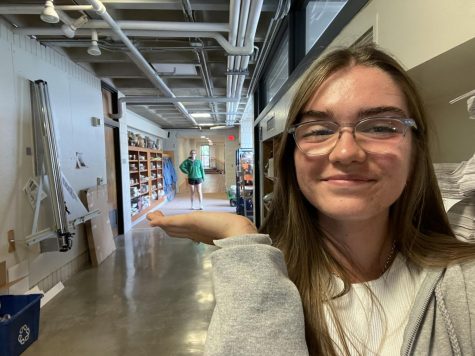 Ali Browne, Production Manager
Hi! I'm Ali Browne, and I'm the Production Manager for RubicOnline. This is my third year on staff and in the past, I have been the feature editor and...