From the construction zone: A sneak peek of the new Huss Center of Performing Arts
The Rubicon reporters Boraan Abdulkarim and Diane Huang were given a tour of the progress made in the construction zone of the new Huss Center for Performing Arts by Construction Superintendent Tim Mahanna on Nov. 17.
Tim Mahanna handed each member of our group a white hard hat and a neon green construction vest. I put the vest on over my jacket, unsure if it'd be worth it wearing so many layers. I wondered if I should have brought mittens, but decided that I can't press the shutter on a camera with covered fingers. After  we introduced ourselves to Mahanna, we headed out. We crossed through Lily Courtyard and were led through the metal gates that read "No Trespassing." I felt out of place with my camera, but snapped countless photos nonetheless.
I stood on the unearthed dirt where a sidewalk used to lead to the parking lot in front of Drake Arena. Mahanna demonstrated the way that technology has helped streamline the construction process by showing us the digital blueprints and construction apps on his ipad. He then lead us through a temporary wooden door, and into the new Huss Center for Performing Arts.
The first thing I saw was the hallway that had been recreated in so many architectural renderings and reprinted on pamphlets and posters placed all around the school. Although the building was still only a dirt floor and some concrete walls, it was easy to visualize the way that this space will evolve within the next few months. I could imagine students drifting in on an early snowy morning, finishing up a history assignment on a bench or socializing on a group of sofas. My daydream was interrupted by Mahanna pointing out where the bathrooms will be. Throughout the site, the sound of welding and the moan of a distant power tool could be heard. A construction worker stood at the top of a ladder, orange sparks falling down from where he was working. I was glad I brought a jacket, regretful that I didn't bring along mittens. As we walked through the building, parts of the pre-existing upper school were recognizable by the white brick I used to stand against after school, waiting to be picked up.
We took a few turns and walked through a tall , grand doorway. All of a sudden, I was onstage. I faced what already looked like an auditorium,with rafters and room for audience seating caving in towards the orchestra pit (at the time, literally just a pit). Save for the little yellow construction truck backing up and moving dirt around, I could imagine myself a year from now, standing right where I was, giving my senior speech or making an announcement in an assembly in front of the student body. A chill ran down my spine, and not because I was standing in an unheated construction site surrounded by snow.
About the Contributors
Boraan Abdulkarim, Editor-in-Chief
Boraan Abdulkarim, a senior at St. Paul Academy and Summit School, is looking forward to her fourth year on The Rubicon staff.  Boraan enjoys calligraphy,...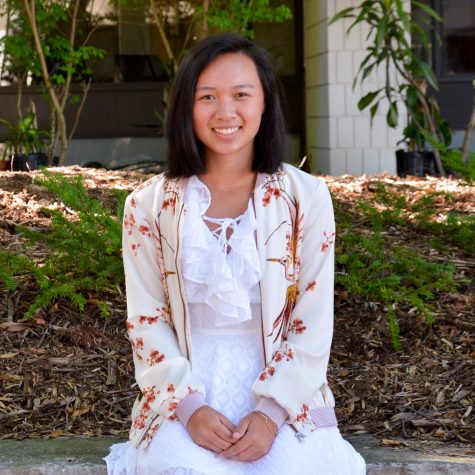 Diane Huang, Director of RubicOnline
As Diane Huang enters her senior year at St. Paul Academy and Summit School she also settles into a familiar, yet newly titled role as Director of RubicOnline....