Julie Friend signs to play for NWHL
When Upper School Athletics Administrative Assistant Julie Friend grabbed her first hockey stick, she did not realize she would go on to play the sport professionally. She was eight-years-old, a late age for aspiring hockey athletes. Playing goalie, Friend went on to play on the Minnetonka Girls Hockey team, and the St. Cloud State University D1 Women's Hockey team.
"A lot of people start when they are about two or three, but neither of my parents played hockey. We ended up getting Wild season tickets when I was about seven and then I started skating right after that," she said.
Friend has been playing for the Minnesota Whitecaps out of college for the past two years. Since 2004, the Whitecaps have been committed to giving women an opportunity to continue to play the sport they love.
In May, however, the Whitecaps officially joined the National Women's Hockey League (NWHL). The NWHL started in 2015 as the first professional women's hockey league in North America.
"I signed a contract in early, we had tryouts in July. I signed pretty quickly after our first tryout, everything was officially announced in the last month. Now we have our team together and we have started to play games," Friend said.
"
We are pretty lucky that we are now a part of this league."
— Julie Friend
The Whitecaps 2018-19 season includes 16 regular season games against the four other teams in the NWHL.
Balancing the role of Athletics Administrative Assistant at SPA and goalie for the Whitecaps comes with challenge and reward for Friend. Her practices are at night and the games take place on weekends. Yet, the practices and games are often physically exhausting, "It's a little time consuming, but it's definitely manageable."
For many girls playing hockey, they know their career will be cut short. With a slim list of teams to choose from after college and professional leagues, female hockey additionally face sexist discrimination with unequal pay, most recently in the Winter Olympics. Friend affirms that she has a responsibility to be a role model to aspiring female hockey players.
"I think the fact that, especially for hockey, now that there is a league for women, it gives girls a little more motivation in college and heading into their senior year. I've been a part of this team that past two years and it's never been about being professional or the money or anything like that it's just about playing hockey and playing with girls that I grew up with. We are pretty lucky that we are now a part of this league."
To find the 2018-19 schedule for the Minnesota Whitecaps, click here.
About the Contributor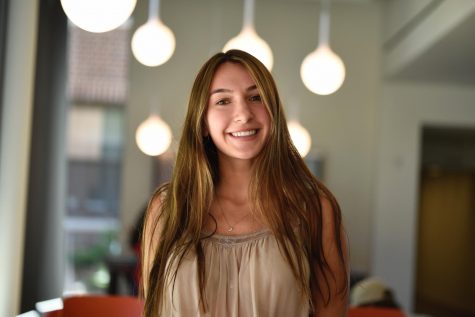 Mimi Geller, Director of RubicOnline
Mimi Geller is the Director of RubicOnline. This is her fourth year on staff. Mimi believes that high school journalism connects people by sharing their...