Detentions may not provide sufficient incentive for punctuality
William Shakespeare said, "Better three hours too soon than a minute too late." This quote highlights the importance of being on time, if not early. While the administration and the faculty at St. Paul Academy and Summit School do not expect students to be early, they do expect them to be on time. For students who have excessive lateness or tardiness, some "time" in detention results. However, does serving detention deter students from being late?
According to the SPA Student Handbook, students are granted two latenesses per semester to school and to each individual class without penalty. Technically, students who arrive after the four minute passing time are marked tardy by the teacher. The third tardy results in detention and a parent notification.
Students may serve detention before or after school for forty-five minutes every day except Fridays after school. They report to Room 206 and check in usually with the Dean of Students, Judy Cummins. Almost always a student proctors detention when the dean is unavailable. As an incentive for proctoring detention, a student is credited for serving two detentions.
Sophomore Rafa Buettner-Salido, who has not served detention, thinks that the policy could use improvement. "There are some teachers who are vigilant about marking students tardy and some who are more lenient." He added that most students try to get to class on time. " If students are late, they usually have a reason." Buettner-Salido does not think that tardiness is a big deal at SPA. "The first few minutes of class are often used by the teacher and students to catch up, share thoughts, and prepare for class." He also mentioned that last year when the classes were shorter, it was a bigger deal to be on time. A challenge for some students is when classes are scheduled at opposite ends of the school day which sometimes results in being late and a tardy.
Alex Qin, a sophomore, thinks that the current policy is fair. When he served detention, he liked that fact that he was able to do his math homework after school. "It gave me more time to study."
Cummins reports that detention motivates some students to be on time for class and for school, but not others. "I don't think it is the sole answer because for a lot of students they say they get a lot of work done in detention. It doesn't feel like a punishment to them." One important point that Cummins made was that "arriving to school or class late is disrespectful to teachers and to classmates." When students come late in the middle of discussion or instructions can often disrupt the flow of the class.
Senior Emun Solomon, a regular visitor to detention, thinks that the policy is fair. However, he said that "there are some classes where it is just unrealistic for me to be on time to because of the location of my classes." Solomon, who recently moved fifteen minutes further away from school, mentioned that it is now harder to get to school on time. Solomon thinks that for some, detention has a negative connotation. "For me, [detention] is a great way to get schoolwork done."
While detention may not be the best solution to curb lateness, Cummins is open to new ideas and recommendations from students. Historically, SPA had Saturday School where students were required to attend school on Saturday. Sometimes they would do classwork and other times to assist in the maintenance of the building. Instituting this kind of policy today would pose a lot of problems for families with hectic weekend schedules, but it may be more effective in getting students to comply with school expectations. Perhaps there is more to detention than getting homework done.
Leave a Comment
About the Contributor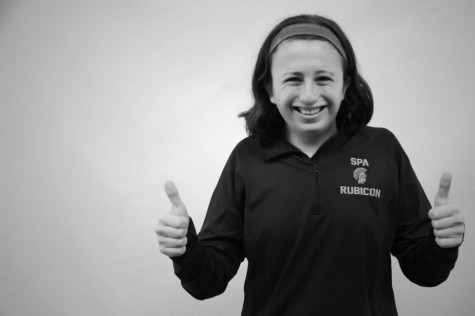 Catherine Braman, Online Editor-in-Chief
Catherine Braman is a Junior at St. Paul Academy and Summit School. Catherine served as Online EIC for first semester 2014 and was a co-Sports Editor...