Netta Kaplan, Copy Editor

September 12, 2013
Junior Diving captain Jackie Olson practices for a meet. Read the story and see photos by clicking here.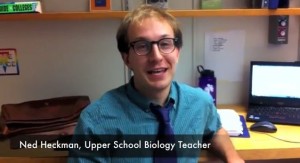 Eva Perez-Greene, InDepth Editor

September 6, 2013
Upper School English teacher Phillip de Sa e Silva, Upper School history teacher Amy Weisgram, and Upper School biology teacher Ned Heckman share fun facts about themselves. This article has been revised to reflect the following update: Amy Weisgram's name has been corrected.