Bagnoli reflects on Love Your Body Day and HerSpace's values
Body acceptance and appreciation often have a great effect on mental health as they significantly impact one's self-worth and overall allow people to feel more comfortable and confident as they embrace their insecurities. However, true self-love is easier said than done. The affinity group HerSpace has made a point to celebrate Love Your Body Day for 4+ years at SPA to make students more comfortable with how they look, feel and present themselves.
On Oct. 19, HerSpace guided the upper school in a day of encouraging self-love. The group led a simple and optional exercise throughout the day, but it was nonetheless impactful. Vice president of HerSpace, Clara Ann Bagnoli said, "High school is probably one of the hardest times for everyone, especially young women…there's lots of pressure to be perfect, academically and physically." These pressures were a driving factor behind the creation of HerSpace's annual Love Your Body Day celebration, as the group believes it is important to acknowledge the struggles of female-identifying students during adolescence and create a supportive environment to fight against harmful expectations related to appearances that impact everyone.
When arriving in the Schilling Center, just before the design lab, visitors were greeted with a booth where a member of HerSpace was stationed during each period on Tuesday. Behind the free stickers laid on the booth was a large figure traced on an orange sheet. During a previous meeting, the group sketched the body of one of their members onto a large piece of paper so that during the day, students could write down a part of their body or something about their appearance that they love on a post-it note, and attach it to that region of the poster. Bagnoli emphasized that anyone was welcome and encouraged to put a post-it on the figure
"
HerSpace creates a culture that puts female-identifying students as a priority and not an afterthought."
As an affinity group, HerSpace meets weekly during tutorial in the ninth-grade history room. These meetings are spent talking about what it means to be a woman and the struggles that come with it, both inside the SPA community and in society as a whole. With many classes in the curriculum being discussion-based, a frequent topic discussed in their meetings is how female-identifying students feel their voices are valued in the classroom compared to their peers and how this impacts the classroom environment. It's important to give women the space to talk about the issues they face, as many times they are ignored. HerSpace creates a culture that puts female-identifying students as a priority and not an afterthought.
"It's important to accept the things you were born with," Bagnoli voiced. HerSpace gives female students the chance to share their experience with each other and lift each other up while understanding what they can do to counter negative experiences and spark change. The group provides a comfortable space for women to be themselves and explore the intersection of their gender identity with other aspects of their lives. Bagnoli hopes that more female-identifying people are able to lean on HerSpace for support and guidance and that the group can expand their involvement in the community.
HerSpace's next meeting is Oct. 26. All female-identifying students are welcome!
View Comments (1)
About the Contributor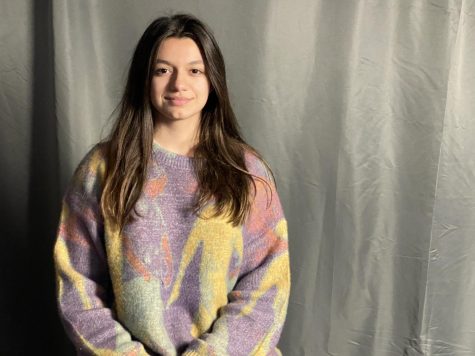 Zadie Martin, A&E Editor
I'm Zadie Martin this year, I'm the co-A&E Editor for RubicOnline. I really like learning about true crime and history. I also play bass and skateboard....