Alternative expression: the return of punk
How fashion style aligns with music taste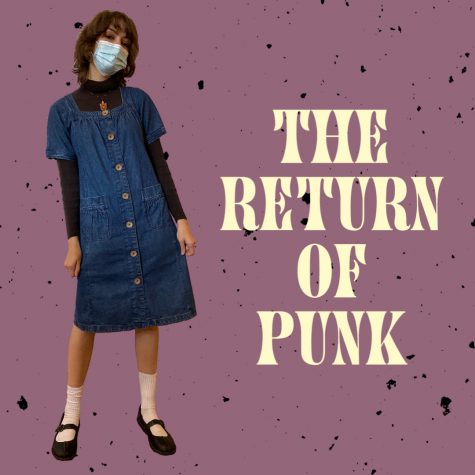 Aesthetics make each music scene unique and deeply influence fashion to those who listen. With modern pop-punk artists like Machine Gun Kelly and Paramore borrowing the punk look, or TikTokers like Nessa Barrett taking from the culture found in the alternative scene, fashion is bound to borrow aspects from music too. How do differing music scenes and their characteristics affect choices in fashion?
Junior Raina Fawcett lately listens to Phoebe Bridgers, Lucy Davis, Julian Baker, Arctic Monkeys, and many musical artists that widely fall under the term alternative.
Fawcett's mood changes with the music she listens to (predominantly alternative) and that affects her choices of fashion. "My mood changes with music and music does have such a harsh impact on myself, but also what I want to wear and how I want to present myself," Fawcett said.
Not only does music's many moods cause shifts in style, but the artists themselves influence clothing in their own ways of dressing and their music.
Seeing alternative artists dye their hair different colors or wearing bold looks and leather is inspiring to Fawcett and motivates free expression. "Getting to see people in the spotlight being able to express themselves with style and not caring what color their hair is or what they're wearing is super inspiring because if you can see them do it, you feel comfortable doing it yourself," Fawcett said.
Each music scene has its own culture, including both the punk and alternative scenes. Both scenes express individuality and bold looks. Each genre of music has its own aesthetic. "On TikTok there's a lot of people who listen to genres of music and have a certain style so I kind of just base my style on the style of different genres of music," freshman Kai Sia said.
Sia listens to many genres of music including rock, kpop, and alternative. "I listen to a lot of old rock, but I also listen to kpop and one of my favorite artists right now is called Flyleaf."
Sia mixes different aesthetics from the different music he listens to. "I mix my style a lot because I listen to a lot of 60s and 70s music so I have boots and dresses from that era and then I also have Demonias and stuff. Also I have a lot of cute tops and pleated skirts that are more from the kpop genre," Sia said.
Junior Quenby Wilson has explored the punk scene since middle school. The culture found in the punk scene is something Wilson has been surrounded by for many years, so it's greatly affected her style. "Riot grrrl has a lot of distinct styles, but I really love Kathleen Hanna's style and I draw a lot of inspiration from her."
The aspect of individuality found in the punk music scene influences Wilson's fashion as well, including some staples to the look. "I think that because it's one of those movements that's based on female liberation, especially in the punk scene, there's not a lot of rules, it's a lot of just 90s alternative fashion and then there's some staples like Doc Martens or black boots," Wilson said.
"
My mood changes with music and music does have such a harsh impact on myself, but also what I want to wear and how I want to present myself,"
— Raina Fawcett
Although Wilson has a heavy interest in Punk, she also listens to music that falls under the hyperpop label. "I listen to a lot of Sophie, Arca, Charlie XCX, and Hannah Diamond. Those are kind of on the opposite ends of the spectrum, but I feel like I enjoy them both equally and they both have an equal impact on my style," Wilson said.
The differing and interesting music found in the hyperpop genre plays into Wilson's fashion sense as well as punk fashion. "With the more pop and art pop music I listen to there's a lot of over the top camp-like clothes that people wear. And a lot of DIY technology inspired stuff and shiny things and blocky shapes, and I think it's really cool, it's very forward thinking because the music itself is very forward and futuristic." Wilson said.
However, as punk music and alternative music gain traction and popularity, mainstream artists try to capitalize on it. "People like Halsey and pop artists that make more alternative-ish or less produced music will call it punk and like that's not what punk is, punk is very politically motivated, it's also very fashion-motivated, and I think the social justice piece and the political movements and beliefs that are at the core of punk are what makes punk what it is," Wilson said.
Music is a large component of many people's lives and it influences fashion whether that be through the tone of the song or the community that's based around it. Students at SPA have the ability to dress and watch everyone walking in with their different outfits and music tastes speak to the freedom of individuality the community has created. Alternative music and fashion channel individuality on a different level, allowing students to belong to a community that embraces similar senses of fashion and ideas.