[FOOD REVIEW] Agra Culture offers healthy options
Hang on for a minute...we're trying to find some more stories you might like.
Agra Culture, an organic, vegetarian and vegan focused restaurant opened another location in Highland Village, just minutes from the Saint Paul Academy and Summit School campus. The restaurant combines the convenience of fast food with the freshness and health of farm to table restaurants. Ample flavor is added to the organic and unprocessed meals and sides, for breakfast lunch and dinner.
The restaurant is busy, but there are still places to sit down and enjoy your food. The dining area itself is well designed, clean and full of light. This makes it an enjoyable place to eat your meal and generates continuity between the foods characteristics and the ambiance in which it is served. The restaurant begins with an ordering counter, where costumers view the menu and place their orders. At a restaurant with this style and such simple meals, plates should be delivered to the table far quicker than they are.
The menu is chalked full with healthy meal options, fresh and organic ingredients, and plenty of vegetarian, vegan, paleo, gluten free and dairy free options. The menu also has breakfast options, which are served throughout the day. A wide variety of salads offer anything from a "spinach and strawberry salad with chicken," to the "Ensalada Mexicana," to "Deconstructed Sushi." Any proteins can be added to the salads for an additional charge. The bowls and plates borrow flavor profiles and themes from all over the world, modernizing them and making them organic and fresh. An example is the "Vegan Chorizo Tacos," which combine Latin flavors and spices with a vegan chorizo in corn tortillas, with brown rice and vegetables.
Sandwiches, bowls, plates, and salads range from $9-15, a reasonable price for what the restaurant offers. Breakfast options are far cheaper, which leaves room for a side of bacon or fresh fruit.
The menu options, the freshness of the food, and tasty and unique flavors greatly outweigh the long wait time for food, making Agra Culture a hit. For students looking for something healthier, but also convenient like fast food, Agra Culture is the perfect place. It is a great option for all meals of the day. If you choose to go to Agra Culture, read the menu online beforehand. When it is your turn to order, almost immediately after walking through the door, you will know all that the menu has to offer. 
Rating 4/5

About the Contributor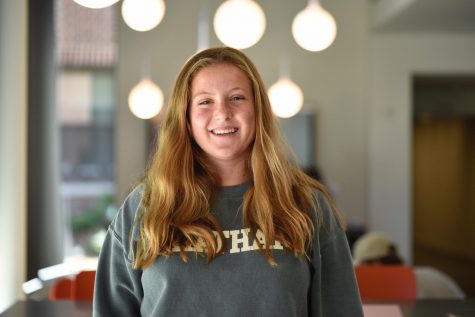 Ellie Nowakowski, Rubicon TV Producer
Ellie Nowakowski is the Executive producer of Rubicon TV. This is her fourth year on staff. She appreciates how journalism has the power to inform and...