Stop ignoring women, Hollywood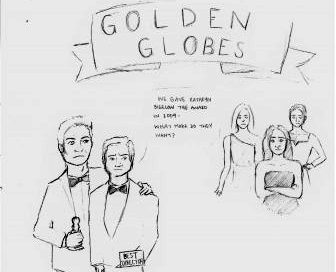 Society is static in its hierarchy, the dynamic being reinforced by those who benefit from it. Those reveling in their success without providing a similar foundation for the less fortunate strengthen this unjust dynamic. Patriarchy and privilege reign, with women and minorities receiving the most scrutiny. These individuals become too easily subordinated, their potential and success overlooked and overshadowed by the more successful individuals. The height of this division is exemplified in the movie industry, with how few females are accredited for their ingenuity and talent. Patriarchy, a well-established construct, is being perpetuated in not recognizing female directors for their talent and is a difficult system to reverse.
"
The time spent discussing issues and injustices would be spent more productively taking the initiative to change them."
Since it first aired in 1929, five women have been nominated for Academy Award Oscars, only one of whom, Kathryn Bigelow, has been awarded Best Director. However significant of a win this may have been for Bigelow-as well as the female population- it does not compensate for the countless women overlooked for the nomination; Greta Gerwig's 2018 Lady Bird, despite holding an unprecedented position in  Rotten Tomatoes, winning Best Picture, Comedy and Best Actress, was not awarded Best Director. Overwhelmingly, women receive the least recognition in a field of work in which they are constantly undermined: from the 1,100 movies used in a survey, 4% of the films were directed by females, which is equivalent to 22 male directors to one female director.
The time spent discussing issues and injustices would be spent more productively taking the initiative to change them. Kathryn Bigelow should not be heralded as the sole female director to win Best Director, and it cannot be revolutionary each time a woman is recognized for her capabilities. Patriarchy may be a daunting dynamic to dismantle, but it's possible: in viewing and voting for projects and movies with female-dominant casts and crews, you support the success and encourage the recognition of female directors. Organizations such as the Alliance of Women Directors, Women in Film and GameChanger Films finance and promote the education and ideas of aspiring female movie makers. In donating to the programs or viewing the movies produced under the organizations, you support not only the business itself but also the women working within them.
We can't afford to be complacent when it comes to women's acknowledgment and recognition; it requires active involvement to change a deeply ingrained and flawed system.