Upperclassmen reach out to freshmen in the new mentoring program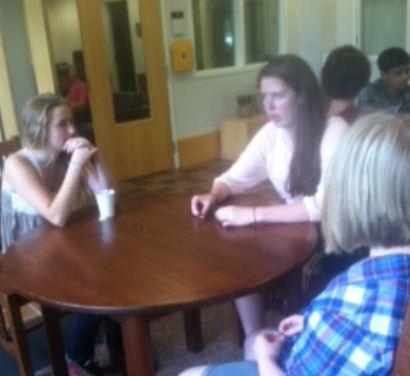 While most students spent tutorial working on homework or hanging out with friends, a group of dedicated upperclassmen took the time to reach out to the new freshman class. Over 40 juniors and senior mentors met with their freshmen "mentees" to reflect on their first week in the Upper School. Senior mentor Katherine Jones and her new freshmen friends, Ellie Brass and Hannah Stanley, discussed their classes, sports and student groups. Though the three were both a little quiet at first, by the end of tutorial, they were like old friends. "I think that if I have problems, I will definitely would want to go to [Katherine] because she has been [in the Upper School] for a while," Brass said.
"I really like that I get to talk to different classes," Jones said. "I am a senior, but I still get to connect with the freshmen…it gives me an opportunity to branch out." The mentors will meet with the freshmen for the next three weeks and then again before Winter exams.
Leave a Comment
About the Contributor
Hannah Johnson, Editor in Chief


Hannah Johnson is a senior at St. Paul Academy and Summit School. She is the Editor in Chief for the 2013-2014 school year. This is her third...