Update on Ukraine and Russia
Action from world leaders has been increasing following the violent conflict between Russia and Ukraine. Public condemnation of Russia's atrocities and support from world leaders has heightened in recent weeks following the invasion of Ukraine on Feb. 23. More and more countries are beginning to place economic sanctions on Russia and committing to decreasing their reliance on Russian oil and gas. In addition to penalizing Russia, military aid has been given to Ukraine from countries around the world.
In one of their biggest moves condemning Russian aggression, U.S. lawmakers revoked Russia's normal trade status, banning their oil and gas. This past week, President Joe Biden said of calling the invasion a genocide, "I called it genocide because it's become clearer and clearer that (Russian President Vladimir) Putin is just trying to wipe out even the idea of being Ukrainian. The evidence is mounting," Biden made this clarification to reporters on a statement from a speech in Iowa this past week. Atrocities have been experienced by countless Ukrainians.
Junior Mimi Huelster said, " I saw a story about a young mother who took a marker and wrote her name, her address and her phone number on her [two year old daughter's ] back just in case something happened, like if the daughter was either orphaned or stranded. That was really heartbreaking."
Additionally, U.S. lawmakers are planning on stripping Russia of their trading privileges. This would prohibit all sales of Russian energy in the American market. The United States also placed economic penalties on businesses outside of the energy sector. On April 7, the United States issued sanctions on two Russian-state owned businesses. One is United Shipbuilding Company, Russia's largest shipbuilding company. Sanctions were placed on 28 subsidiaries and eight members on the board of directors. The other business is Alrosa, a diamond mining company. All property belonging to the individuals and corporations located in the United states is now blocked and must be reported to the Office of Foreign Assets Control. Student leader of the Political
Discourse Club Maya Sachs said, "I think that we could definitely be sending more in terms of aid, medical aid, more supplies, defense, anything that wouldn't escalate the situation and make the death toll higher and cause more atrocity."
Outside of the United States, the European Union approved a phased-in ban on Russian coal. This reparation follows the United Nations General Assembly's vote suspending Russia from the Human Rights council. The EU has pledged another 500 million euros in military support to Ukraine, marking a total of 1.5 million euros in military aid since the beginning of the attack. In addition to lawmakers working to disincentive Russia, the North Atlantic Treaty organized a meeting to discuss military aid to Ukraine.
Australia will send 20 home-built Bushmaster "armored personnel carriers to Ukraine, says Prime Minister Scott Morrison. The vehicles were requested by Ukrainian president Volodymyr Zelensky on March 31.
Combined, these nations' actions have escalated pressure on Russia. The responses from the United States, EU, and NATO symbolize a stronger response from Western nations. The increased response comes at an appropriate time, as there is news of Russian troops regrouping for a new surge of attacks in Eastern Ukraine. Ukrainian officials are urging citizens to flee from these attacks.
Leave a Comment
About the Contributor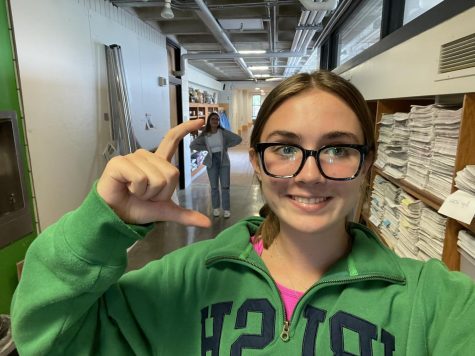 Alexandra Cardwell, Opinions Editor
Hi! I am Alexandra Cardwell. I am a co-editor of the Opinions section for the 2022-2023 school year. This is my fourth year on staff, and in the past I...