U.S. Postal Service is in danger; send them some love
Sending mail is seen as part of "the olden days" for many young people today. However, the United States Postal Service is still as important as ever, especially since mail-in ballots for the presidential election are essential to democracy. The USPS is vital to the nation, connecting people from coast to coast. In 2019, it delivered 143 billion pieces of mail and reached over 160 million different addresses, according to the USPS. Though it is easy to take it for granted, the USPS is vital to every student as citizens of the United States.
The USPS has long faced a major lack of funding, which is an imminent threat to the country. According to Daniel J. Richardson, part of the Congressional Research Service, the last time the USPS recorded a net profit was in 2006. According to the United States Government Accountability Office, "USPS's total unfunded liabilities and debt ($143 billion at the end of fiscal year 2018) have grown to double its annual revenue." Part of the USPS's decrease in money is due to the fact that it delivers less mail than it used to. According to Pew Research Center, it delivered 207.9 billion pieces of mail in 2000, a 31.4% decline from 2019. In April 2020, then Postmaster General Megan Brennan said that the USPS would run out of cash by the end of the fiscal year without help, anticipating "a $13 billion revenue loss directly to COVID-19 this fiscal year and a $54.3 billion additional losses over ten years," according to a press release from the House Committee on Oversight and Reform. This financial problem could be mitigated with help from the government, but the aid needed has not been given, despite the fact that the USPS is a government institution.
The USPS is particularly vital to the country this year, since many will vote by mail for the presidential election. There has been speculation about the security of this possibility, with President Donald Trump and his administration arguing that it will lead to fraud, and threatening to cancel mail-in ballots. Despite the worry about possible fraud, the USPS is necessary for those votes to be counted.
The USPS, though available to every American, is not funded by taxpayer dollars, so it is important to support this organization in order to keep it accessible, and to allow everyone's vote to be counted in the upcoming election. There are many ways to help the institution that support both the USPS and those you love. Buy a pack of stamps and send letters to a loved one. Find a penpal. Send letters to veterans, healthcare workers, government officials, etc. to show appreciation. Show USPS and its employees gratitude for all that they do for our nation.
Leave a Comment
About the Contributors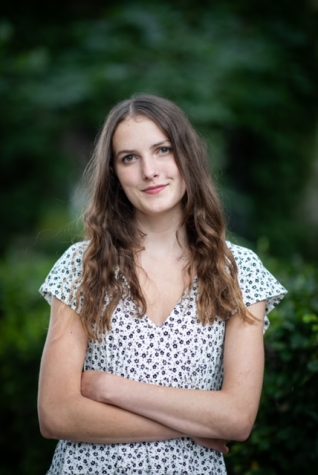 Eloise Duncan, News Editor
Eloise Duncan is a News Editor on The Rubicon. This is her fourth year on staff. While at home, she has kept busy by watching numerous shows and movies,...
Maren Ostrem, Managing Editor
Maren Ostrem is the Managing Editor for The Rubicon. This is her fourth year on staff. During this social distancing period, Maren has been snuggling with...