[TV REVIEW] Sex Education puts modern twists on coming-of-age cliches
The dumb jock, the bookworm nerd, the bully: these are all well-worn tropes of coming-of-age TV shows and movies. With the second season of Sex Education, though, these cliques instead are overshadowed by vivid and gripping characters who interact outside of traditional romance tropes. 
Premiering last January on Netflix, the show centers around Otis (Asa Butterfield), a socially awkward teenager who started up a sex therapy clinic for the sex-related problems of his fellow students.
The new season begins with a chlamydia outbreak at Moordale High, set in the U.K., which at any ordinary school, might cause despair and chaos. However, the outbreak is instead portrayed as a hilarious and harmless incident, though Otis has to remind the students that chlamydia cannot, in fact, be transmitted by spit or air. 
While the first season mainly focused on the sex and relationship problems of students, season two deepened its look into less black-and-white topics, such as bisexuality, pansexuality, and asexuality. The new season also explored platonic relationships between characters, such as between the swimmer-jock Jackson (Kedar Williams-Stirling) and his straight-A tutor, Viv (Chinenye Ezeudu). While the jock/nerd pairing is undoubtedly cliche, the storyline overturns expectations by having both characters open up honestly about their internal struggles. 
"
The [chlamydia] outbreak is instead portrayed as a hilarious and harmless incident, though Otis has to remind the students that chlamydia cannot, in fact, be transmitted by spit or air. "
Season two also includes parents and teachers in its storyline, giving the impression that while relationships seem difficult in high school, adults still struggle with the same complexities. The interaction between the show's protagonist, Otis, and his sex therapist mother, Jean (Gillian Anderson), illustrates this assumption-breaking idea. While Otis' mother becomes ethically concerned about his sex clinic and lashes out at him: "I always get your worst and I'm tired of it," she too is experiencing a major hormonal change: perimenopause. 
The show references coming-of-age classics, such as The Breakfast Club, through its use of '80s pop music and bright saturated colors. One such memorable reference comes when the English teacher, Miss Sands, sentences six girls to detention, instructing them to find a common identity or experience, despite being from different cliques. Like the theme of The Breakfast Club—that individuals are more than their socially defined roles—the girls find a shared experience in the patriarchy and unwanted sexual contact. Aimee (Aimee Lou Wood), who initially brushed off an assault on a bus ride, opened up about the experience—"I always felt safe before, and now I don't"—causing the other girls to share their own experiences of groping, stalkers, and other unwanted contacts in public. Comedy aside, Sex Education sheds light on the painful realities of growing up with sexual contact. 
One easy complaint to the series, however, is that the character arcs are too predictable: most major conflicts revolve around characters distraught with choosing between two love interests. However, in only eight hour-long episodes, Sex Education packs an impressive amount of unique characters and humor into its storyline.
Rating: ★★★★☆
About the Writer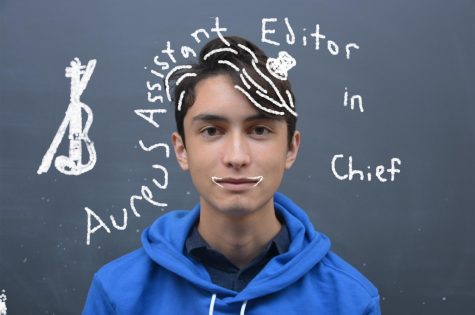 Sam Hanson, Aureus AEIC
Sam Hanson is the Assistant Editor-in-Chief of Aureus magazine and a writer on RubicOnline. This is his third year on staff. Sam enjoys using multimedia...