Three films, one film festival: EDUFF inspires cinematic magic
Entering a movie theater, taking a seat, and watching the lights dim is an experience almost everyone has had. What most people haven't seen is their own film coming on screen after that. Juniors Violet Benson and Carys Hardy had just that experience on May 19 during the EDU Film Festival at the Main Theater (formerly St. Anthony Main) in Minneapolis.
EDUFF is a student film festival which aims to "provide youth filmmakers with an authentic film festival experience." Each year, students from high schools all over Minnesota (and a select few students from elsewhere) have their short films screened at the festival. It's an achievement that results in an experience that's invaluable for any student filmmaker.
Benson's film, "The Lovely Mundane," is classified as an experimental short film, "[The Lovely Mundane] is a poem I wrote and put film over," Benson said. "It's… poetry film style, so it's very much up to interpretation."
"
There's a lot of artistic components to making a documentary.
— Carys Hardy
Benson thoroughly enjoyed the process of making her film, which she did in the Video Arts class.
"I put my heart into this film… I wanted to have as much fun as I could with only having [Video Arts] for one semester," she said. "I loved experimenting with the color and shots and just the whole vibe and aesthetic of [my film], and it was just so fun to make."
Hardy had two of her own films in the festival: "The Night I Swam With The Stars," which is an experimental narrative film, and "Moving up the Wall," which is a documentary on rock climbing she made last year.
Like Benson, both her films were made for the Video Arts class.
Hardy described her process as creative, even when working within the more traditional documentary medium. "There's a lot of artistic components to making a documentary," Hardy said. "The way you angle the camera; the way you capture different things, too, complements what your subjects are talking about."
Both Benson and Hardy are excited to show their films to a wider audience than ever before, "I felt really proud," Benson said. "I felt like, 'Wow, something I made—people are going to watch something I made,' and it was a very magical moment."
Leave a Comment
About the Writer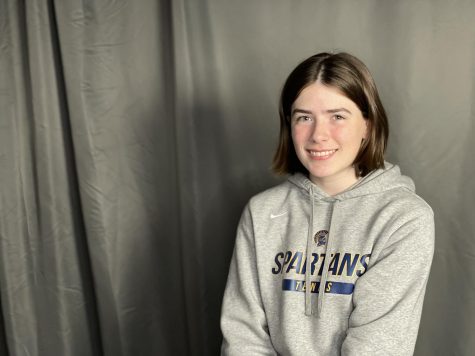 Eliza Farley, Feature Editor
Hi! I'm Eliza (she/her), one of the Feature editors for The Rubicon. This is my second year on staff; last year I began as a staff writer and ended as...