The need for needles
Students interlace needlework with artwork
Threading the needle, quarter inch seam allowances and the constant weaving of the hand puncturing fabric. Although often portrayed as precisely pointless, engagements of the hands and the mind through sewing, cross-stitching, embroidery and almost any other practice involving a needle and thread soothes the brain. Simple partakes in crafts like these are very apt to relax the brain and invigorate the spirit.
Perhaps without even consciously knowing it, students at St. Paul Academy and Summit School thoroughly relish in the fearless joy of stitching. Senior Phoebe Pannier learned how to embroider when in her girl scout group in grade school. Although she was not particularly invested in embroidery, Pannier now seamlessly intertwines her love of the craft with her interest in art.
"
I like taking the older medium that isn't always recognized or respected as an art form and making it art"
— senior Phoebe Pannier
"I'm doing a lot of embroidery right now for Senior Art Seminar so I'm making more on canvas and other fabrics because it's cheaper than buying nice fabric. I'm also using right now an old shirt," Pannier said.
In anticipation of creating a new piece, Pannier typically sketches the design she had in mind before using a needle and thread. Although thought does go into many of her designs, Pannier additionally free hands as her piece continues to develop and change. Her design seldom remains static.
"I like that it's art in that I get to design it, but I also like it because it's a bit easier to do mindlessly while I do something. It's sort of subverting embroidery, I'm taking it from being a craft that women do, to an art form that women do which I think is very empowering in a lot of ways. I like taking the older medium that isn't always recognized or respected as an art form and making it art," Pannier said.
Pannier draws much of her inspiration from pieces and artwork ideation she sees on social media, particularly on  Instagram she feels inspired by the works of @hanecdote. 
"I find inspiration from other art I see, the ideas I see, but not the same symbolism. My favorite piece is something I'm currently working on, it's about universal experiences but there aren't really any. You read a lot about girlhood being this universal experience that every girl has, but it's really a very individual experience growing up," Pannier said.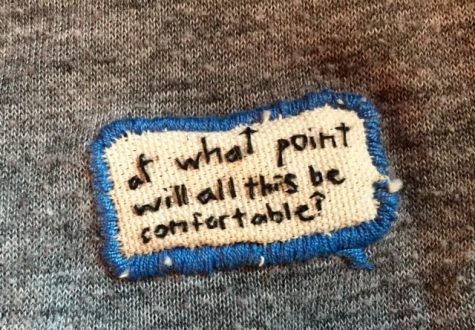 For junior Mira Zelle, the tradition of embroidery and other sewing forms has laced the narrative of her childhood and her continual passion currently.
"I started to cross stitch a couple summers ago after picking up a kit at Michael's on an impulse buy. Before that, I did a lot of embroidery, needlepoint, and sewing. I learned how to do all the needlework from my grandma, who used to own a needlework shop called Needlepoint Alley. Her mom made lace by hand when they still lived in Greece, so you could say it runs in the family. She would pick me up from preschool every Monday and we'd sit at her kitchen table doing needlepoint. She'd be finishing up these really elaborate and beautiful pieces for the front of tallis bags and I would sit next to her and needlepoint little pink hearts on tiny pieces of the fabric. At this point, any type of needlework, but especially cross-stitching and needlepoint, feels like second nature," Zelle said.
"
I love the fact that I can put my heart into every single stitch I make"
— sophomore Zoe Hermer-Cisek
Sophomore Zoe Hermer-Cisek began sewing when she was only 5-years-old. The origin of her inspiration for beginning to sew began after she reading about the sewing in Little House on the Prairie by Laura Ingalls Wilder.After this, Hermer-Cisek has been teaching herself how to sew ever since she flipped the last page.
"It's really calming. I love the fact that I can put my heart into every single stitch I make. Also using very small changes in stitch during embroidery changes how the eye perceives it, like brush strokes. [Finishing a piece is] like finishing a really good book. You want to see how it ends, and are satisfied when it's done, but at the same time, you feel like you're saying goodbye to a friend," Hermer-Cisek said.
This sentimental nature of the practice forms everlasting bonds, often Pannier embroiders with a group of friends that celebrate and covet their joy of zig-zagging, stitching and weaving.
"I just think it's really fun, I'm in a group of girl seniors and we embroider together. It gives me a nice sense of community. Having an art you're passionate about that you can do without it being too serious," Pannier said.
Aside from the communal energy embroidering provides, the seemingly trivial pastime offers a mindless repetition of creation. This repetition of threading, stitching, and cutting allows the unwinding of the psyche and invokes emotions of calmness and tranquility. The passion of continued practice interfaces both Zelle and Pannier's lust for their artwork.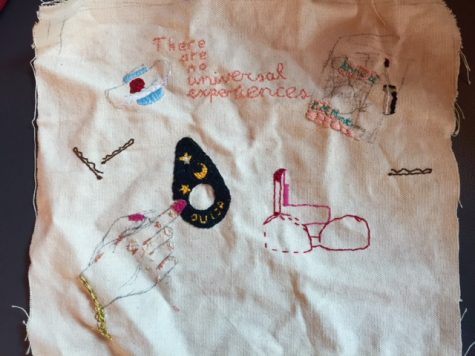 "My favorite piece that I've made is the first cross-stitch I made. It's a picture of two hummingbirds and it's super cute and looks really good. My favorite piece of my mom's is my needlepoint jean jacket that I wear because it looks really sick and I love that I can bring a little bit of her with me and still look mad cool. My favorite piece from my grandma is the kippah that she gave me after my bat-mitzvah. It's needle pointed on the top and embroidered on the bottom with a really sweet message so it's sentimental," Zelle said.
Zelle deliberates that an important distinction between sewing and embroidery is that sewing serves more functional purposes. Sewing provides an outlet not only for stress alleviation but also the grant of functionality in the pieces created. Embroidery often embellishes the fabrics. Cross-stitching and needlepoint are seemingly similar, however, cross-stitching has much of the actual fabric visible, while needlepoint tends to cover the fabric.
Unlike Zelle, Pannier mostly focuses just on embroidery, and she details its somewhat pointlessly rewarding attributes.
"I would say embroidery is entirely aesthetic, it doesn't really serve any purpose whereas in knitting you can create something and sewing you can create something which is really cool. But, I think embroidery is pretty useless, which sounds silly, but that's something I like about it," Pannier said.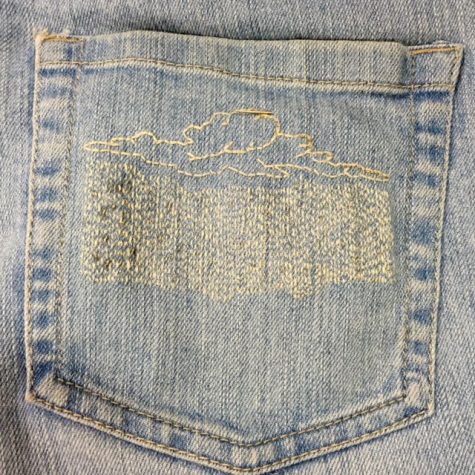 For Hermer-Cisek, the functionality and usefulness of sewing steers her heart towards her needle and thread.
"Everyone should know how to sew on a button, and neatly mend a rip. It's just one of those practical things like learning how to make toast, or do laundry.Sewing is practical and necessary for everyday functioning. You have to wear clothes. But do those clothes have to have embroidered detailing? No. That's what makes embroidery special. No one has to do it, but it just makes the world that much more beautiful," Hermer-Cisek said.
About the Contributor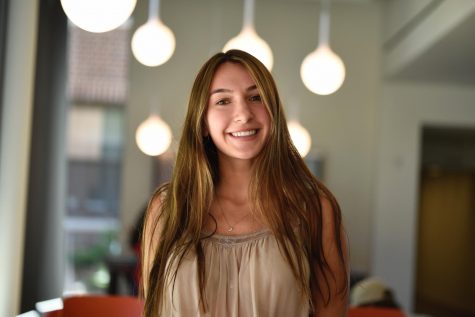 Mimi Geller, Director of RubicOnline
Mimi Geller is the Director of RubicOnline. This is her fourth year on staff. Mimi believes that high school journalism connects people by sharing their...