[The 5] U.S. suspends distribution of J&J vaccine, Biden announces withdrawal of Afghanistan troops, Summer Olympics plans take course in Tokyo and more
LOCAL
Minnesota along with the rest of the U.S. have suspended the distribution and administration of the Johnson & Johnson COVID-19 vaccine on Tuesday. They are temporarily suspending the vaccine as they await the investigation into the 6 women who developed a rare blood clot disorder two weeks after their vaccination to conclude. Those who developed these rare blood clots were 6 of 7 million U.S. receipts to receive the Johnson & Johnson vaccine.
(Source: The Star Tribune)
The shooting of Daunte Wright is proposed to lead to criminal charges as early as Wednesday against former Brooklyn Center police officer Kimberly Potter. Washington County Attorney Pete Orput has been reviewing the footage of the killing and other evidence and is expected to file something against Potter. If charged, this would only be the second time in the U.S. that a police officer is criminally charged for killing a person due to an apparent mix-up between their taser and their gun.
(Source: The Star Tribune)
NATIONAL
Biden is set to announce the withdrawal of troops from Afghanistan after 20 years. There will be a deadline set on Sep. 11 for the withdrawal of the U.S. troops. This announcement and plan have set a course through the NATO allies and many of them are doing the same. This withdrawal is expected to bring about an expansion of the Taliban that may overwhelm the government in Kabul which is backed by the U.S.
(Source: The New York Times)
A glacier in Alaska is rapidly moving and changing much faster than normal. The Muldrow Glacier in Mount Denali in Alaska has been moving 90 feet a day which 100 times more than its usual speed. The glacier is about 1,500 feet thick and a mile and a half long, however, this event is resulting in fracturing and deformation of the glacier. The changing of the glacier is exciting for many glaciologists as these types of surges only last a few months.
(Source: The New York Times)
INTERNATIONAL
The Summer Olympics are planning to take course this summer in Tokyo after a year-long delay. The Olympics officially start on July 23. and end on Aug. 8 this year. Only residents of Japan, along with Olympic athletes and teams, will be allowed to attend the event in person to prevent the risk of the spread of COVID-19 among outsiders. However, no decisions have been made about the capacity of certain venues the sports will be played in.
(Source: The Washington Post)
Leave a Comment
About the Writer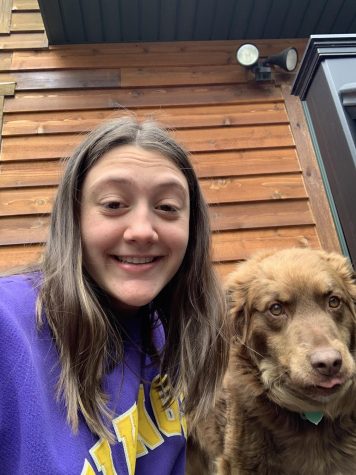 Annika Rock, News Editor
Annika Rock is a News Editor at RubicOnline. This is her second year on staff. During quarantine, she has been taken daily walks around her neighborhood...