Take initiative: attend college visits
As college admissions season tightens its hold on seniors who are churning out heaps of Common App essays, and as juniors begin to prepare for a slew of standardized tests, it's important to remember that there is more to the search for colleges than simply lurking on admissions websites. Visits from college admission officers provide information that cannot be gleaned from the internet, as well as an opportunity to build a relationship with someone who might be reading your application.
Madison Hollenbeck, the Assistant Director of Admissions at Whitman College, explained why college visits can be so valuable.
"A visit really helps pull back the curtain," Hollenbeck said. "Being able to put a face to someone who might be reading your application can help make [the college process] less scary."
College websites are useful for gathering facts and statistics, such as acceptance rates, tuition costs, and test score requirements, but they are lacking in other departments.
"You get more personal anecdotes, you get more stories, you get to hear the admission officer's point of view, you get to hear more resources and more about student life than you can just find on a website," Hollenbeck said.
For juniors who are curious about a certain school, attending visits allows them to test the waters and absorb a variety of information. As for seniors, visits help them narrow down what they're looking for and establish a connection with admission officers from colleges on their list.
"
You're building a relationship with someone who might be able to help open a door for you."
— Madison Hollenbeck
In addition, many colleges consider demonstrated interest in their admissions process, or how much genuine interest a student shows in their school.
"The rep who comes to SPA in a lot of cases is the Minnesota rep for that school," Assistant Director of College Counseling Andrea Sachs said. "They may very well be the first person to read their application. So you're building a relationship with someone who might be able to help open a door for you."
Since visits occur in the fall and juniors don't take their college seminar until the spring, they often don't know what to ask and opt to just take notes instead. However, questions can make meetings more insightful.
"Students should come in with questions that they actually want to know the answer to, making sure to phrase it in a specific way," Hollenbeck said. "If you ask colleges, 'Is your psychology department good?', we're all going to say yes. Saying, 'What can your psychology department do for me [if] I'm interested in social psych?' is more pointed to what you want to know."
Academics aren't the only thing that students should consider either.
"Ask about student life and stories. I think most schools will probably have some fun traditions," Hollenbeck said.
Students should pay attention to the emails they get from College Counseling that provide updates about college visits and sign up for sessions from schools that catch their attention. As per policy, make sure to notify teachers at least 48 hours before the visit. Missing class may be an inconvenience, but the connections and knowledge gained from a college visit will be well worth it.
About the Contributor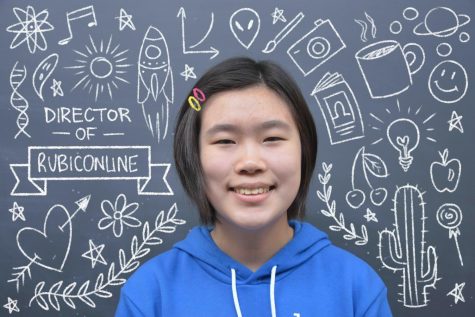 Melissa Nie, Director of RubicOnline
Melissa Nie is the Director of RubicOnline. This is her fourth year on staff. Melissa believes that everyone has a story to tell, and high school journalism...