Su makes her presence known through dance
Hang on for a minute...we're trying to find some more stories you might like.
With over 60 shows under her belt, senior Ashley Su has been pirouetting through life since she was in second grade. At seven years old, Su was the youngest out of eight girls to transfer from Chinese Traditional Dance to ballet. The feeling of the dance was new to Su. The movements were completely different from what the girls had learned in their traditional classes.
"Ballet is more of like this Western type of dance, and going into ballet was more of a challenge because I wasn't great at it. It was a different atmosphere because when you learn ballet, there's less of that cultural connection," Su said.
Su's mother had first wanted her to join a dance class because she wanted her to have good posture, but over time, her mom began encouraging her to continue because she had potential. Su's second-biggest supporter has been her ballet teacher, who also encouraged her to be her best. 
"
Definitely, I think I've learned a lot of life lessons at the studio that I wouldn't have otherwise learned"
— Ashley Su
Su began her ballet career at Little Swan Dance Studio and has been there ever since. In sixth grade, she joined the Classical Ballet Academy of Minnesota, where she has since graduated. There are four productions and two recitals a year at the Academy, which gives the dancers an opportunity to show their community what they've been working on over the past few months. To Su, it's been interesting to see how she's improved throughout the years and been able to tell a story through each dance.
"It started out as something that when my teacher told me I had potential, I felt like I was good at something. Because I wasn't the best student and I wasn't good at any other sports. So, I thought ballet was my thing," Su said.
Though Su danced her heart out, she has also learned to step back and save pieces of wisdom through memory.
"The friends, the people, and the memories that I've gotten to make throughout the years [have been my favorite.] Definitely, I think I've learned a lot of life lessons at the studio that I wouldn't have otherwise learned," Su said.
Her entire world view has shifted because of the way that dance has influenced her throughout the last ten years. 
"My teacher once told me that everyone in a room has this invisible hat. Based on the person, it's either tall or short, and the height varies. The taller the hat, the wiser and humble they are. So when you see a person walk into a room, you can kind of like picture what type of hat they have," Su said. 
About the Writer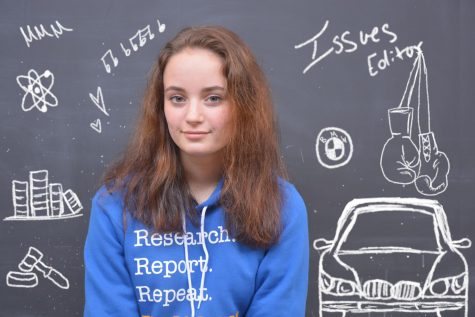 Meagan Massie, The Rubicon
Meagan Massie is the Issues editor on The Rubicon. This is her third year on staff. She is passionate about providing a diverse perspective on the way...