Students participate in math activities and "Fred Chi" at Community School of Excellence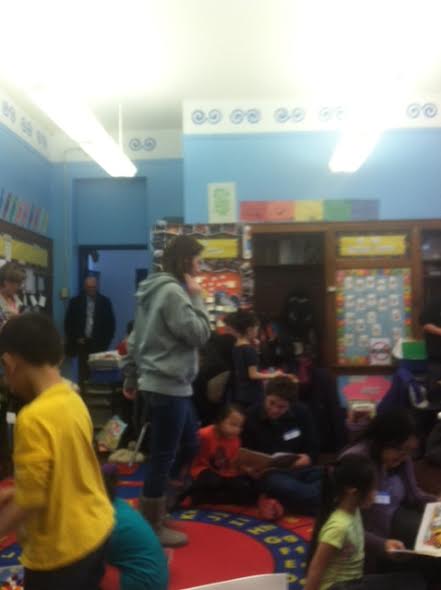 With all the stresses of high school, it was nice to finally be a kid again, even if it was only for a few hours.
I entered the Community School of Excellence in the Frogtown neighborhood of St. Paul unsure of what to expect. I was nervous about what student I would be paired up with and whether or not they would want to talk to me. I left my worries and doubt at the doorway as soon as I arrived at the second grade classroom I was assigned to work at.
It was adorable to watch the small second graders size up the high school kids, and vice versa. I felt like I was in gym class again when the teacher told the students to pick a partner. Luckily, a cute girl named Serenity asked me to be her partner, her voice so quiet I could hardly hear her.
The class proudly showed off their reading and math skills while the high schoolers tried to squeeze into their tiny chairs. I cheered Serenity on as she aced a geometry quiz and colored a name tag for herself. "You are the first high schooler I have ever met," she told me bashfully. I felt totally engrossed in her life of drawing and simple mathematics and wanted to return to elementary school so badly.
To top off the fun afternoon, both the second graders and high schoolers "worked out" to Fred Chi, a YouTube video featuring light exercises and trippy visual effects. I tried to catch up to all of the students with my shuffles and kicks, but I failed miserably.
Unfortunately, the day had to come to an end, and I slowly shuffled out of the classroom. Before I could go, though, Serenity gave me a big hug and goodbye. I wish I could spend more time working with my new friends at Community School of Excellence!
To read more perspectives on this Service Day activity, click here and here.
Leave a Comment
About the Contributor
Hannah Johnson, Editor in Chief


Hannah Johnson is a senior at St. Paul Academy and Summit School. She is the Editor in Chief for the 2013-2014 school year. This is her third...