[STAFF EDITORIAL] Take more risks this summer
Nine times out of ten, risk-taking is associated with dangerous, unsafe and harmful behaviors. Yet, extensive research concludes that making risky decisions is actually healthy, especially for adolescents.
Risk-taking is intrinsically tied to decision-making. Due to the biological stage of development in teens' brains, adolescents go through the decision-making process differently than adults—driven more by the emotional and reactive parts of the brain than the thoughtful and logical areas of the brain. Teens are especially prone to making reckless and destructive decisions, which is one of the aspects of adolescence that builds a negative reputation for the age group. They participate in activities like underage drinking, drug use and other endeavors that can result in consequences because their brains simply have a harder time considering the costs of these choices.
Despite the associations typically corresponding to the use of the word "risky," the National Library of Medicine defines healthy risk-taking as socially acceptable actions with outcomes that do not pose threats. Though the results of healthy risk-taking are not dangerous, the uncertainty of the outcomes can be nerve-wracking.
The potential outcomes of texting and driving are clear. You might rear-end someone, veer into the oncoming lane of traffic, or lose control of the car. When running for an elected council, though, the outcomes aren't nearly as dire, despite how it might feel. You either make the council, or you don't.
The University of Minnesota Extension explains that taking healthy risks involves trying something new—which can manifest in many different ways, cultivating new relationships, or taking positions of leadership within your community.
Teens who practice positive risk-taking tend to be less impulsive, according to the National Institutes of Health. Healthy risk-taking also promotes the discovery of teens' individual values or belief systems and allows them to learn how to deal with disappointment.
"
Healthy risk-taking also promotes the discovery of teens' individual values or belief systems and allows them to learn how to deal with disappointment.
The National Library of Medicine divides healthy risk-taking into five categories: physical, emotional, social, intellectual and spiritual.
Physical risk-taking refers to choices such as exploring new foods or playing new sports. They challenge teens physically without running the risk of severe consequences. Emotional risk-taking involves challenging yourself mentally, such as apologizing for your actions or taking time to yourself rather than constantly surrounding yourself with others. Taking a social risk could look like spending time with a new group of friends or giving a speech in a public setting. Intellectual risk-taking demands stretching and challenging your education, maybe through taking an academically rigorous summer course or testing your memory skills when learning lines for a play. Spiritual risks involve experimentation with your own personal morals and beliefs, which could include volunteering for an organization you support deeply or making choices based on your own values rather than your family's.
There is no better time than this summer to begin taking some risks. With just one week of school remaining, an abundance of time and freedom lurks just around the corner. The opportunity to learn and grow lies in your hands, so take the leap.
Leave a Comment
About the Contributors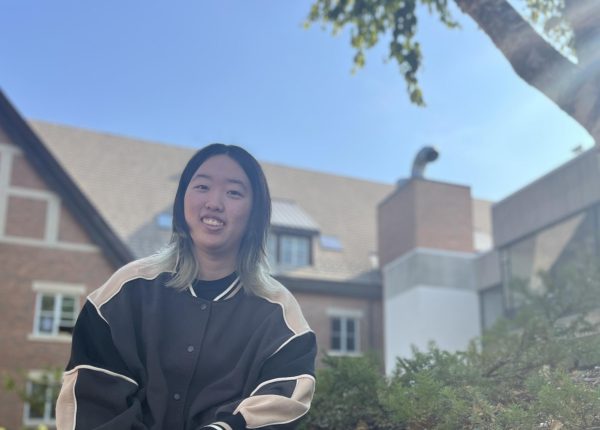 Annika Kim, Illustrator
My name is Annika Kim (she/her). I work as the Illustrator for the Rubicon, and this is my second year officially on staff. At school, I work on Iris Art...