Seniors begin college application process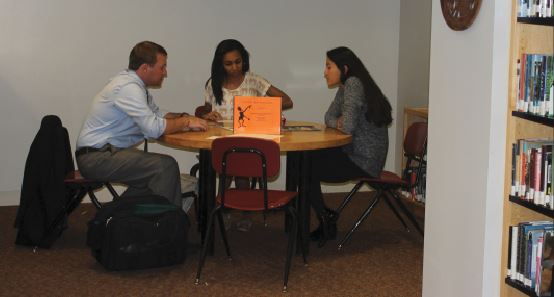 October brings early acceptance college application deadlines to many St. Paul Academy and Summit School seniors. Early acceptance is an opportunity for seniors who are confident and have a clearly defined first choice college. If accepted, these seniors will know where they will attend college almost a year before actually starting.
While this sits well for many, for other seniors it's not the question of what college to attend but if they are prepared both academically and emotionally to transition to the college environment.
"We work with students and families to think about what is the college process about and ultimately transitioning from high school to college. SPA counseling finds the correct fit for each student," Assistant Director of College Counseling Karna Humphrey said. "The process can seem really stressful and really hard, but it doesn't have to be," Humphrey added.
Academically, SPA has a rigorous college prep curriculum. Seniors may find filling out the academic portion of applications to be the easiest aspect of the college process. Today's path to college is marked by test deadlines, personal interviews, college fairs, campus visits, portfolio or personal video auditions.
While these obstacles often seem daunting, seniors at SPA feel ready. "Classes at SPA are a lot like college classes," Senior Alicia Zhang said. "SPA puts more pressure on their students with the rigorous classes. Just based on my test scores, I can get into both the colleges I want," senior Victoria Guest said.
Many seniors feel SPA has prepared them academically, but some expressed some concern about handling the emotional aspect of applying for colleges. "I am nervous about leaving home," senior Steven Go-Rosenberg said. "I am not prepared to leave home and apply to colleges," he continued.