[Q&A] Sophie Cullen gives insight into the senior speech process
Senior Speeches are an annual tradition, something that every underclassman either looks forward to or dreads throughout their four years of high school. As a graduation requirement, it is a common experience that every SPA alum shares. This year, seniors join the ranks of those alumni as they give their speeches in front of the crowd in the Huss Auditorium. Senior Sophie Cullen shares her experiences after giving her speech on Oct. 7 and shares insight into the speech writing process.
Was this moment particularly special having watched speeches since you were a freshman?
When I sat in Huss, my freshman, sophomore, and junior years, watching senior speeches, I often thought about what was running through the speakers' heads. They all seemed so mature and distant, in a sense. I usually watched in awe and kept wondering after senior speeches that day what I would write about and what my senior speech experience would be like. Going through the process of reading my speech for practice before my senior speech day, it felt unreal that I would now be the person sitting behind the senior speech table. I felt a sense of accomplishment and closure when I finally gave my speech in front of the SPA community.
How did you come up with your speech idea?
I have always been passionate about meritocracy, ever since I read "The Smartest Kids in the World: And How They Got That Way" by Amanda Ripley. Going to a college-preparatory school where students care a lot about grades and post-secondary education, I knew that I wanted to speak about the misconceptions about grades and how easy it can be to get tunnel vision, where we keep running on the treadmill towards more accomplishments. I wanted to remind people and myself to step off that treadmill every once in a while, and to enjoy this life while it lasts.
How do you feel after having done your speech?
Although I was extremely nervous to give my speech, the moment when I finished speaking was full of relief and satisfaction. Presenting the speech and my message to the audience was not only rewarding, but provided me with a sense of closure. Delivering my message made me feel like a significant part of senior year was completed, and I'm one step closer to graduating.
What is the process for writing a speech?
Every senior has a timeline for when different drafts of their speeches will be due. The first draft is typically due a month before the senior gives their senior speech. The second draft of a senior's senior speech is due a week before they are scheduled to give their speech. The final draft of a senior speech is due two days before the speech will be given. Writing the speech is an intensive and learning process. One's speech will usually change drastically over the month after they turn in their first draft.
What is one piece of advice you would give to future speech givers?
I would recommend staying on schedule with draft due dates. Having your first draft done a month before you give it will allow you to have plenty of time to think about it and make additions or edits you wouldn't have otherwise made. Also, by submitting your draft early, you will not have to stress about writing it last minute and stress about having a good speech idea. I would also recommend practicing reading your speech many times before you give it before the crowd, as you will be more confident and your delivery will likely show that. Finally, I will say to trust both your gut and the process.
What support do you receive from school and friends while writing it?
Mr. Inchiosa, the senior speech coordinator for the class of 2022, was extremely helpful in providing feedback for my speech and guiding me through the process. My teachers were also extremely understanding when I needed an extension because of my senior speech and the other requirements I had the week I gave my speech. My friends were all extremely supportive and inspired me throughout the process.
What is one speech that inspired you in past years?
I remember graduate Olivia McCauley's speech about the oppression and challenges women face, especially in leadership positions, to this day. She talked about how women would be shut down or labeled negatively if they were too "pushy" or aggressive, and how she had the right to be who she wanted to be and wouldn't let men keep her from pursuing her dreams. I still remember standing at the end of that speech, not looking around to see if other people stood because I believed in what she had to say so deeply. I live by her speech to this day.
What is something that you want people to remember about your speech?
I want people to remember that the only person who can set expectations for them is themselves. That you don't have to let the meritocracy consume your life, and that you have the ability to create a meaningful and happy life while being part of the system of comparison and distractions. I hope that people recognize their ability to control their life, and that accomplishments and grades are not nearly as important as the meritocracy makes us believe.
How did it feel walking off the stage as people applauded?
It was a moment of pure satisfaction and appreciation for both myself and my community.
How did it feel to give your senior speech back in person in front of the crowd?
I am extremely grateful that my class had the opportunity to give their speeches in front of a live crowd. Last year, the seniors had to give their speeches to a live webcam where other students would watch from home. Being able to give my speech to the crowd helped me connect more with the audience, and it was a really enjoyable experience.
After completing her speech, and sharing her message with the school, Cullen is happy to have hit this milestone and looks forward to hearing the rest of her class reflect on their own experiences and beliefs. The next senior speakers are on Oct. 14.
Zekiah Juliusson serves as co-USC president with Cullen.
Leave a Comment
About the Contributor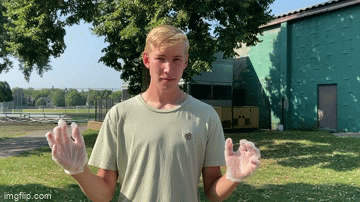 Zekiah Juliusson, Opinions Editor
Zekiah Juliusson is the Opinions Editor of Rubiconline and this will be his 4th year on staff. Over the summer he took a fun boundary waters trip and played...