Pronoun practice reflects intent of gender inclusion
He/him, she/her, they/them. Pronouns are spoken out loud as part of daily introductions in go-rounds, discussions, and when asking questions in class. Teachers pass by in the halls, pronouns proudly displayed on buttons attached to their lanyards.
"With more and more gender-expansive students being in the upper school every year, it was unacceptable that there was no way for them to share their pronouns and be respected for their identity," Actions for Gender Equality co-leader Maggie Baxter said.
During the 2020-2021 school year, AGE co-leaders Maggie Baxter and Spencer Burris-Brown worked with the SPA administration to request opportunities for students to share their pronouns in classes. This shift in practice was initiated by the leaders of AGE and Rainbow Connection as part of professional development meetings for teachers in August, and has rolled out as a community practice this month. Using pronouns as part of interactions dovetails well with the schools gender inclusion policy, published in 2018. The main changes made to SPA's policies about pronouns are centered around students being given the chance in class to share their pronouns at the start of each quarter; previously, SPA's guidelines indicated that students should specifically request others to use a chosen name or pronouns.
"
When every student shares their pronouns in a classroom it doesn't make students who use expansive pronouns feel set apart and makes for a more inclusive environment."
— Maggie Baxter
"We were unsure of where we stood as a community, like making sure students were comfortable, so we were trying to gauge," Actions for Gender Equality adviser Raney Bice said.
"It's really painful to not have your identity validated at a place that's like your second home at your school. I think it's essential to be able to start your year with that and make sure everybody feels safe in your classroom, and I think it's a big step towards that community being built."
The new policy and practices work towards creating a space for students, especially those who do not identify as cisgender, to be comfortable in their identities without feeling alienated or alone. Baxter describes their goal of making a safe and respectful environment for everyone. "When every student shares their pronouns in a classroom it doesn't make students who use expansive pronouns feel set apart and makes for a more inclusive environment," she said.
Sophomore Oliver Zhu also believes using someone's pronouns correctly is important to show that their identity is recognized and respected. He says SPA's recent practices have helped him feel more comfortable presenting himself as who he truly is, and "I think the fact that they value it was very surprising to me, and it made me feel a lot more reassured that the school cares about the students, cares that they're respected, and cares that they're comfortable."
By assuming or using the incorrect pronouns for an individual, they can feel that their identity is being invalidated. "Very rarely outside of school do I get asked my pronouns," Zhu said. "Occasionally it will be people my age asking them, but most often, my pronouns and gender identity are assumed, and often assumed incorrectly." By consistently asking and sharing pronouns, inaccurate gender norms and misgendering of students can be avoided.
SPA's new practices have started the year off with an effort to include all students's pronouns in the classroom. "This simple step of giving students the opportunity to tell their peers what to call them makes a huge difference so that students can focus on being at school and learning," Baxter said.
Leave a Comment
About the Contributor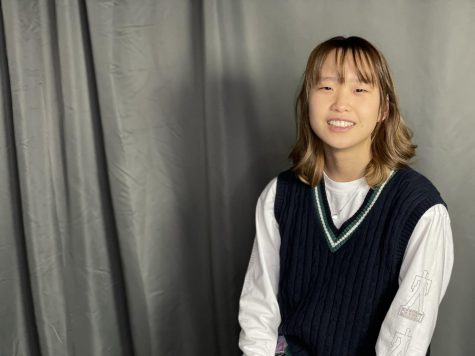 Claire Kim, Opinions Editor
Hi! I'm Claire Kim (she/her), the Opinions Editor for print. This is my third year on staff and in previous years, I was the Music Editor and a staff writer....