[PODCAST REVIEW] Ava Jules shows candid side in On My Mind
Since 2013, Ava Jules has spent much of her life online through the popular YouTube channel @avajules. Her Instagram feed boasts 778,000 followers, as well as a plethora of nature photography and bikini pictures. Known for colorful content on the beaches of Oahu, Hawaii, endless book recommendations, and preaching self-love, Jules has risen to lifestyle influencer fame in recent years.
In March of 2022, Jules excitedly shared that she was starting a podcast called On My Mind. In her announcement Instagram post, she said, "having a podcast where I can share all my thoughts, feelings, advice, stories, and experiences has been a dream.. & now it's about to be reality."
On My Mind has four episodes so far, each around the length of an hour. The podcast does exactly what the title suggests—it exposes the real, raw, human side of Jules that perhaps isn't as noticeable when quickly scrolling through her Instagram feed or glancing over the thumbnails of her Youtube videos. Many influencers and celebrities create misleading digital lives, showing only the perfectly-curated highlights. However, Jules frequently breaks that pattern in her content, especially with On My Mind.
View this post on Instagram
In episode one, Jules dives right into things by speaking about fear and how limiting it can be. In the next segment, she shares her thoughts on growing up and becoming an adult. No matter the focus, though, each minute feels like an open conversation with many powerful insights. For example, in episode two, Jules said, "I think we create ourselves, we create the people we want to become." The other episodes follow a similar fashion.
If organization is appealing to the listener, one downside is that the podcast does sometimes lack a clear structure. That is just the nature of it, though, as Jules's style is to casually speak her mind. On My Mind has a relaxed, thoughtful vibe to it, and is easy to listen to while doing household chores or other tasks. Or, simply cozy up with a warm beverage and listen to the soothing voice of Ava Jules for the perfect moment to reset and recharge.
A new episode of On My Mind is released weekly on Wednesdays. It is available to listen to on Apple Podcasts, Spotify, Amazon Music, and iHeart Radio.
Rating: ★★★★
If you liked On My Mind, you might also like Anything Goes with Emma Chamberlain or Moments Podcast with Lexi Hidalgo.
Leave a Comment
About the Contributor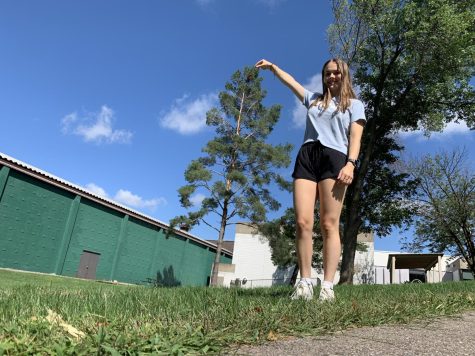 Eliana Mann, News Editor
Hi! My name is Eliana Mann (she/her). I am a News Editor for the RubicOnline, and this is my third year on staff. Outside of journalism, I enjoy spending...