Olguin experiments with cross-genre in the Loft Mentor Series
Molly Olguin is an Upper School English teacher, working in creative writing and American literature—but she is as much a writer as a teacher. Olguin was chosen as one of twelve 2018-2019 fellows at the Loft, which is a literary center in Minneapolis.
"In the series so far, we have worked with all the local writers. The non-fiction local writer is Angela Pelster, the fiction writer is V.V. Ganeshananthan, and there's Danez Smith, who is poetry—I kind of fangirl them all," Olguin said.
For any emerging writer, the prospect of meeting a respected literary figure can seem daunting. But often, the stereotype of famous writers as isolated, eccentric, and "larger-than-life" personalities falls short of reality. "Danez very much feels like the kind of person I thought they would be from their poems. They are super smart, but very down to earth—like intimidatingly cool," Olguin notes.
The workshop, though, differs from the traditionally MFA program. "This is a unique experience in that it's not working one-on-one with somebody—which I've done before—it's working with a very small group," Olguin said. With such a close-knit group of peers, literary analysis is able to go to the next level. "It's intensely looking at a novel excerpt for three hours, and really getting to the granular," she adds
"
Danez very much feels like the kind of person I thought they would be from their poems. They are super smart, but very down to earth—like intimidatingly cool."
— Molly Olguin
T. S. Eliot famously said "Immature poets imitate; mature poets steal"—of course, the word "steal" being a literary tradition, rather than an actual crime. Olguin has taken this maxim to her classroom. "The exercise I did in poetry about audience—writing for a beloved, or writing for an enemy—I stole it from Danez Smith. That's an exercise they did with us, and I was like 'Oh, I want to use this,' " Olguin said.
Olguin's work—consisting of short stories and poems—can be found on journals ranging from Quarterly West to New Millennium Writings. However, she is currently working on a novel, which is a multi-year project. Upon consideration, Olguin recognizes how the Loft workshop changed her thinking about her own writing. "I like to be thinking about how poetry and non-fiction writing affect my fiction writing. At first, I didn't think there was [a connection], and then I had a reading last month, and at the Q&A someone asked this question [how has your thinking about your own writing changed] and I had to think about it."
The Loft setting also provides a melting pot of ideas and an environment for cross-genre experimentation. Olguin found herself applying nonfiction questions, such as 'What is the real truth?' 'What's the narrative that you are telling yourself versus the actual truth of the story?'—and applying them to fiction writing. She also finds a connection between poetry and fiction. "The question of audience, which I think is a very poetic idea—write for the self, write for the beloved, and for an enemy—that totally can come into fiction as well. You just think about it from the point of the view of the character rather than yourself."
About the Contributor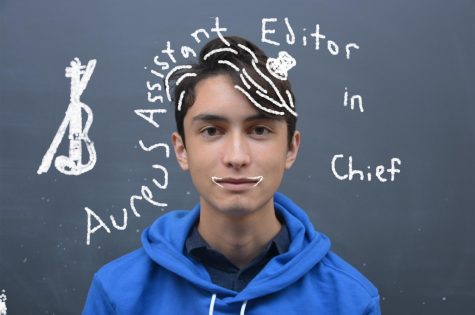 Sam Hanson, Aureus AEIC
Sam Hanson is the Assistant Editor-in-Chief of Aureus magazine and a writer on RubicOnline. This is his third year on staff. Sam enjoys using multimedia...