No Prom look is complete without a great hair style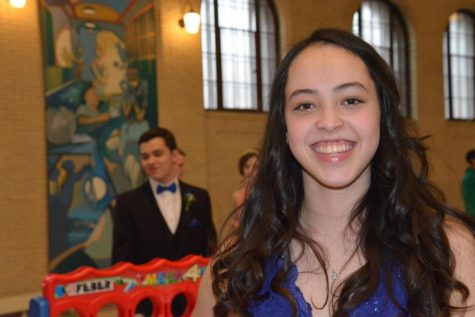 Prom is about the dresses, the dates, and the dancing. But as June 7 quickly approaches, students are also beginning to think about what hairstyle will complement their look for the big day.
"I do my hair all the time," junior Allie Verhey said. This includes her hair for formal events like the Winter Dance and Prom.
Junior Maya Shrestha also prefers to do her own hair.
"I tried getting my hair done and getting it curled all of freshman and sophomore year and I never liked the way that it looked and this year I decided to curl it myself and I liked it a lot better," Shrestha said.
"The last dance I just wore my hair down, straightened, because my hair is not naturally straight so it takes a little bit of an effort to do that but I think for prom I'll wear it in a half up half down with curly hair," Verhey said.
Along with matching their outfit to the formality of the event, students make sure their hair fits with the attire as well.
"I think it looks really relaxed but also more formal than wearing it just down because it looks like you put more than minimal effort in," Verhey said about her favorite half up half down style.
Senior A.M. Roberts curled her hair for the winter dance and plans on doing an updo for prom.
"I usually have straight hair and I figured for a dance it would be fun to change things up," Roberts said.
Besides just being a novelty, hairstyles can also add another level to an already great outfit. Verhey's hairstyle of choice also compliments her dress.
"The front of my dress is more of a statement than the back of my dress, so it pulls all the hair off the front to show off the front more," Verhey said.
Prom season can be stressful, but it can also bring classmates together.
"All of the upperclassmen girls make this Facebook group where we all post pictures of our dresses and the idea of it is supposed to be so that no one wears the same dress but it's really just a big place where everyone posts pictures and everyone's just supportive and nice and it's just so comforting and nice," Shrestha said.
With all of these different dresses, student's' hairstyles will also vary immensely.
"It's fun; it's exciting," Roberts said.
Check out our gallery of Prom hairstyles to get inspired @rubiconspa on Pinterest.
Leave a Comment
About the Contributor
Quinn Christensen, Print Editor-in-Chief
Quinn Christensen is the Editor-in-Chief of The Rubicon. It is her fourth year on staff. She values high school journalism because she believes it helps...