[MY GEEK FACTOR] Swanson relaxes with lacrosse team
Building and fostering friendships that unify a team is what the boy's lacrosse team is all about. Senior Will Swanson has been on the team since sophomore year and has loved it ever since. It's all about the team and their connection with each other.
"We [the team] have a lot of fun together, on and off the field. Everyone on the team is like a brother. We always have each other's backs. Almost all of us are friends outside the season," said Swanson.
There is never a dull moment in lacrosse. The team is closely knitted which gives the boys somewhere to be themselves and know that they are supported by a whole group of other people. Because of their unity, Swanson never feels the stress or pressure of games. Lacrosse is almost therapeutic for him.
"I don't really stress about games, if anything, lacrosse helps me deal with the stress of school," said Swanson.
He is a midfielder, otherwise known as a middie. He reflects that one of the most memorable times during his lacrosse career was his first ever game that he and his team won. It signified the beginning of a long and strong pack of friendships. Lacrosse remains a passion for Swanson because it gives him time to think and reminisce. It's a time for friends and family. It's a time for reconnection and new connections.
"It gives me a place to be myself, and good around with some of my best friends. I also get to meet people from many different schools, we are partnered with more than six schools," said Swanson.
Swanson hopes that more boys will join the team next year because he believes that it's important to have the kind of family of other guys that he gets every year during the lacrosse season. It's the type of bond that doesn't break easily and will probably continue to grow long into the future.
"I hope our team continues to grow. It's so much fun hanging out with people from other schools, and I want players to get that when they play," said Swanson.
About the Contributor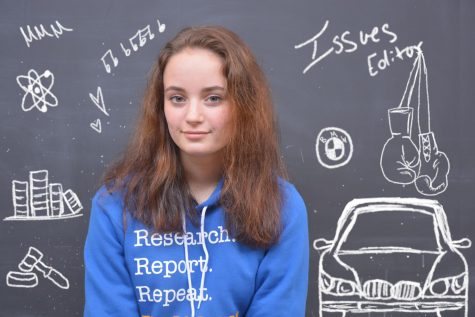 Meagan Massie, The Rubicon
Meagan Massie is the Issues editor on The Rubicon. This is her third year on staff. She is passionate about providing a diverse perspective on the way...