[MOVIE REVIEW] Marvel combines martial arts, superheroes in Shang-Chi and the Legend of the Ten Rings
As someone with only a passing familiarity with the Marvel Cinematic Universe, it felt awkward to dive straight into one of Marvel's Phase Four feature films. Yet, despite all of this, Shang-Chi and the Legend of the Ten Rings manages to check all of the classic traits of excellent Marvel flair: heart, action, and comedy.
Due to Shang-Chi's origin as a master martial artist, the MCU integrates this into a revamped reboot for more modern audiences. Shang-Chi, taking the name Shaun, begins as a mild-mannered, kind hotel valet in San Francisco in order to escape a tragic past. Shaun was taken away from his childhood at age seven to become an assassin after his mother's death, which involved brutal, non-stop training. His sister, a constant reminder of his late mother, was neglected. Although Shaun now manages to live a peaceful life with Katy, his fellow hotel valet, his father forces him to confront his familial past.
Simu Liu does a great job of playing Shaun, or Shang-Chi. Despite his propensity for action as a martial arts master, Liu clearly conveys Shang-Chi's kindness. Throughout the film, he yearns for a peaceful life, and only uses violence when absolutely necessary. Katy, played by Awkwafina, is the comedic relief, and while her story as a Chinese-American searching for a purpose in life is very touching, her comedic moments felt somewhat forced and awkward. It seemed as if they were only there to provide fodder instead of genuinely providing anything notable to the plot. However, despite Marvel's botched attempts to capture internet culture (not something to be harsh about, as doing so well is a herculean task), there are some genuine comedic moments that are not forced. The beginning scene is a notable example, which not only uses subversion to create a subtle laugh, but also introduces the two main characters.
But like all Marvel films, this comedy is interspersed with gobs of glorious action, and as a martial-arts movie, Shang-Chi and the Legend of the Ten Rings delivers with classic, hand-to-hand combat. The cinematography in the action-packed scenes is excellent, with the fight choreography being creative and fresh in each cut. Every single moment is creative, from the man slicing the bus in half to the scene in the tunnel where the camera only focuses on the side windows. However, as the film continues on, it relies more on CGI, which, while excellent as per Marvel's standards, gets a little stale after a while.
Shang-Chi and the Legend of the Ten Rings, though a bit awkward at times, manages to deliver Marvel's signature film tropes in a new, martial-arts style package. Thanks to the great acting chops of Simu Liu, the film shines with a unique protagonist and a welcomed addition to the MCU.
Leave a Comment
About the Contributor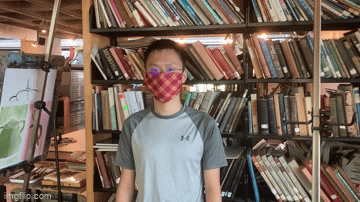 Kevin Chen, Illustrator
Kevin Chen is the Illustrator for RubicOnline, and writes articles and creates digital art for articles. This is his first year on staff. In his free time,...