[MOVIE REVIEW] Jojo Rabbit faces difficult topics with humor
With a heartwarming message set in an important and dire time, Jojo Rabbit is a story about a boy who learns about his own values and opinions of others despite the political climate he lives in. This movie came out in select theaters in the middle of October and was just recently released to the public on Nov. 8.
The story is based in Nazi Germany during WWII during a time in which children were being trained to fight in the war. The main character in the story is a young boy named Jojo Betzler who lives with his single mother and his imaginary friend who happens to be Adolf Hitler played by director Taika Waititi (which is ironic considering he is a Jewish man). At this time, children in Germany loved Hitler and his message that he spread across Germany. This is apparent in the film as Jojo's main goal, in the beginning, is to become Hitler's BFF through training to fight in war; he's so far deep into this fantasy that he has an imaginary friend who happens to be Hitler that acts as somewhat his alter ego by giving him advice and little pep talks. In the beginning, Jojo seems very swayed by whatever his imaginary friend says.
"
The movie is comedic in some aspects but it makes sure to be aware of the gravity of the events that occurred in Nazi Germany during that time."
His mother, Rose Betzler, played by Scarlett Johansson, plays a big role in the child's life. They have a relatable relationship that is different on each end of the spectrum. He may disrespect her and she may tell him how scary the world is straight to his face, but nonetheless their relationship is a happy one that everyone strives to have.
Rose is a woman who dislikes the war and the reasons for it, she hides a Jewish girl named Elsa in their house and later in the movie Jojo finds her. With the crazy anti-semitism that was popular at the time, Jojo's image of Jewish people is warped and constructed poorly to think that they are demons out to get Nazi children. But throughout the movie and the growing relationship between him and Elsa, his mind changes.
The movie is comedic in some aspects but it makes sure to be aware of the gravity of the events that occurred in Nazi Germany during that time. It sheds light on the horrors that occurred at that time but in a manner that is respectable and appropriate for audiences to see.
The story follows a young boy whose mind is shaped by his insane superiors and how he strays away from them to form his own understanding and his own opinion. Waititi uses comedy and tragedy to create the perfect storm that is this film but does this with the help of loveable characters. He also focuses on certain objects and uses unique camera angles to later reveal emotional and jarring scenes later in the movie. There are many heartwarming and small moments that will never fail to make the audience smile.
In this coming of age film, Waititi never fails to make a roller coaster filled with emotion, comedy, tragedy and most of all dancing.   
Final Rating: ⭐⭐⭐⭐⭐
Leave a Comment
About the Contributor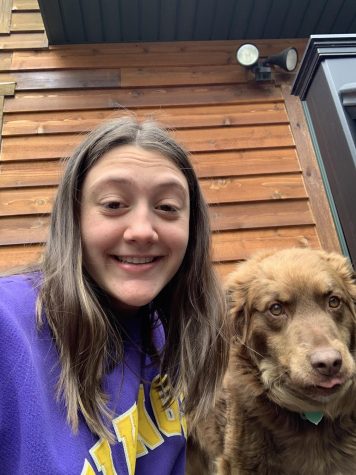 Annika Rock, News Editor
Annika Rock is a News Editor at RubicOnline. This is her second year on staff. During quarantine, she has been taken daily walks around her neighborhood...