[MORE TO ME]: Kase enjoys Jewish basketball league
Senior Joe Kase plays in a Jewish basketball league with friends every week. Kase explained why and how he started playing in the league.
"I play on a team with Reuben Vizelman and Ethan Less. It's with a Jewish basketball league in Minneapolis called J-Ball. Reuben and Ethan asked me if I wanted to join because of their lack of players. Since I love basketball I wanted to play for fun," Kase said.
Kase and his friends play at the Minneapolis location of Sabes Jewish Community Center.
"We play weekly at the Minneapolis JCC, and it's a great way to bond with friends outside of school," Kase said.
Without hesitation or expectation, Kase joined the team to play basketball alongside his friends. Their team does not play on the most extravagant court, but they make the best use of their resources and play to their court's strengths.
"We run fours on a very small court. There is only one referee, we play 20-minute halves, and we always have a good time. My favorite part of being on the team is playing with Reuben, Ethan, and the other guys because I enjoy the game and hanging out with my friends," Kase said.
Kase joined the team for fun and plays each game, alongside his teammates, with that mindset. To fully enjoy the league he set out to have fun playing basketball with his friends. He came to set and accomplish goals for himself, and his time with the league helped him accomplish them.
About the Contributor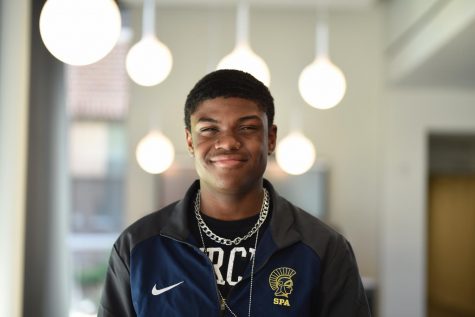 Tristan Hitchens-Brookins, Podcast Editor
Tristan Hitchens-Brookins is one of the members of the Interactive Storytelling Team at RubicOnline. This is his third year on staff. Tristan's philosophy...