Managers play a large role in team improvement and spirit
The incredible amount of planning and practice required for high school sports is made possible with the aid of team managers. Student managers play an important role in helping communication between coaches and team members, managing statistics, and contributing to team culture.
Sophomore Rishi Bhargava is both a manager for the Girls Swimming and Diving team, SPARKS, and a member of the Boys Swimming and Diving team, Trojans. "When the team has meets, I show up, and I help with warm up, like [when practicing] starts I call out when to go. We sometimes help with technique work," he said. "And then when the meet starts, we time with stopwatches and we are able to help [coach] Katy out with whatever she needs." Some of his other jobs as a manager include writing down split times during races and creating meet line-ups, both of which help events run smoothly for swimmers and spectators alike.
Bhargava's own experiences with swimming originally made him want to help out with the girls' team. "Swimming is a really intense sport; you show up, and you try to work yourself to the limit and then try to exceed that, but without team culture that gets really repetitive and really boring. I feel like the people are what makes swimming a fun sport that I enjoy watching, and enjoy being a part of," he said. By participating in traditions on the girls' swim team like diving callouts and singing on the bus after meets, managers help strengthen bonds among the team, which are necessary to keep everyone engaged and motivated.
Similarly to swimming, times are just as important in Cross Country, which is managed by sophomore Ingrid Johnson. Although Johnson has been running on the team since sixth grade, she is participating as a manager this season due to an injury. "This means that I can still be a part of the team even though I cannot run, which is super fun," she said.
Johnson's main job is recording times during practices and meets, as well as helping to organize practices. As a manager, she also works to encourage members of the team from the coaching side. "It's good to have strong team culture because it makes participating in the sport much more enjoyable because we can connect as a team and bond," she said.
Senior Sutton Lillygreen, manager for Boys Varsity Soccer, mainly records footage of the team playing. "We kind of are the backbone in terms of helping guys understand what to improve on when they're not playing in a game," he said. By identifying points to work on, the team's performance can improve, creating a positive environment and giving energy to the members.
"
We kind of are the backbone in terms of helping guys understand what to improve on when they're not playing in a game."
— Sutton Lillygreen
Although their experiences may be vastly different from the players', student team managers are crucial to making sure sports stay organized and team members have the best experience possible. Whether it's through helping their performance improve or simply cheering them on, managers are key to connecting members of their teams.
Leave a Comment
About the Contributor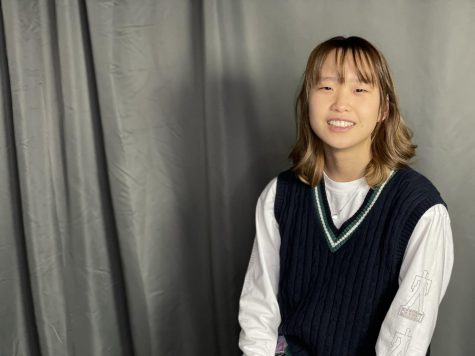 Claire Kim, Opinions Editor
Hi! I'm Claire Kim (she/her), the Opinions Editor for print. This is my third year on staff and in previous years, I was the Music Editor and a staff writer....