Stand up: Michel, Waltenbaugh lightens things up with Comedy
9th grader Peter Michel has always known he was funny. Michel performs improv comedy with a group of students from around the Twin Cities known as "The Official Ostrich Committee" at the Phoenix Theatre in Minneapolis. Michel said he enjoys comedy because he can say anything that comes into his head while developing strong friendships and building confidence.
Michel first started taking improv lessons two years ago at the Huge Theatre in Minneapolis.
"My friend suggested it, and I liked performing, but hated memorizing lines. I enjoy making people laugh and giving them a good time," Michel said.
Improv was a great fit because of its spontaneity and freedom from a script.
"
I enjoy making people laugh and giving them a good time"
— 9th grader Peter Michel
His most memorable experience was when his improv teacher suggested their group start performing in front of audiences. Michel is inspired by comedians Donald Glover and Jim Gaffigan and enjoys sharing his comedy with others.    
Michel no longer takes lessons at the Huge Theatre but meets with his improv group every week. His upcoming performances are March 18, April 15, May 13, June 17, and July 15 at the Phoenix Theatre, 4:00 – 5:30 p.m. Michel encourages students to audition for his improv group at The Official Ostrich Committee's Facebook page.
While comedy can be completely improvised and spur-of-the-moment, junior Tucker Waltenbaugh performs stand-up, a form of comedy where the performer prepares a monologue spoken directly to the audience. Waltenbaugh performed stand-up at the Iris Open Mic night Wednesday, Jan. 25, and acted in the Winter One Acts on Friday, Jan. 27.
Waltenbaugh was first inspired to be a comedian when he saw performances of satire on a ninth grade trip for the Writing for Publication class. After this experience, he became more attentive to the funny moments in his own life.
"I take most of my comedy from real life," Waltenbaugh said.
Waltenbaugh has a notebook where he writes down his experiences and ideas, and later on, forms them into comedy routines. One of his routines consists of a description of his "firsts," such as the first day of school and camp. Waltenbaugh enjoys bringing out the comedy in real life but notices that an important part of comedy is the ability to understand people.
"Comedy goes both ways: you get to learn about your audience and your audience gets to learn about the comedian," Waltenbaugh said.
Waltenbaugh learns from comedians Jim Gaffigan and Adam Hills to get ideas for his routines. Like these seemingly perpetually happy comedians, Waltenbaugh does "comedy for the happy reason, and like(s) to be lighthearted." Most of Waltenbaugh's comedy is lighthearted. Looking towards the future, Waltenbaugh says he is definitely considering comedy as a career, but not sure yet if he will pursue it.
Lighthearted comedy, whether improv or stand-up, seems like a fitting solution for everyone if they're down. 
About the Contributors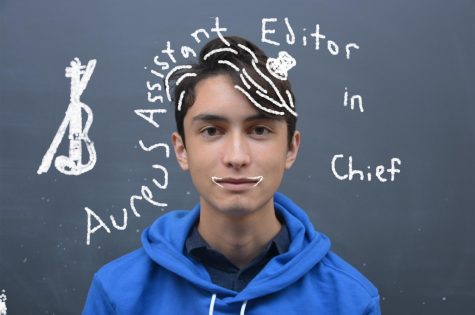 Sam Hanson, Aureus AEIC
Sam Hanson is the Assistant Editor-in-Chief of Aureus magazine and a writer on RubicOnline. This is his third year on staff. Sam enjoys using multimedia...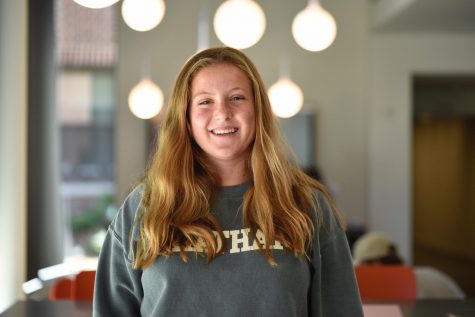 Ellie Nowakowski, Rubicon TV Producer
Ellie Nowakowski is the Executive producer of Rubicon TV. This is her fourth year on staff. She appreciates how journalism has the power to inform and...