Is GPA a good metric for academic achievement?
With exam season upon us as the school year comes to a close, one thing is especially present in the minds of students – GPA. The daunting number that appears at the top of SPA report cards received at the end of each quarter is said to be a measure of academic achievement and knowledge. Accordingly, it comes as no surprise that the end of Quarter 4 (and Semester 2) will have students across all grades feeling anxious over this. One little number should not cause this much uneasiness.
Grade Point Average (GPA) is essentially a number that indicates how high or low a student has been scoring in their classes, on average. SPA uses a 4.0 scale to measure GPA, where a 4.0 GPA is the highest possible to receive. Some schools use other scales or a weighted GPA, which allows students in Advanced Placement courses to receive extra "points" towards their GPA.
Academic performance (frequently measured in GPA and/or letter grade form) is one of the most important aspects of college applications for schools across the country. Fortunately, though, it is considered along with many other aspects of who students are. Especially for college applications this year, GPA has become less of a prominent factor in acceptances because of the hardships students have faced during the pandemic. With each high school in a different learning mode, be it virtual, in-person, or a combination of the two, everyone has had to adjust.
So while things have changed this year, grades are still a cause for much stress because of the weight they hold. The problem is that one number like a GPA doesn't tell the whole story. It doesn't reflect the late nights of studying and anxiety over tests. It doesn't reflect who students are as people outside of an academic environment. The solution? A different grading system. One that can fully show all a student has to offer.
"
School should be a place to learn and grow, and classes should be enjoyable as well as educational. It's about time we change the grading system to reflect that."
There are many alternatives to GPA being introduced in schools across the country, and some that have even been in place for years. For example, at Brown University (an Ivy League school different from the rest), a GPA isn't calculated and only letter grades of A, B, and C are given. To further assess students, they rely on portfolios of student work, performance reports, and letters of recommendation.
In an official statement from the College Curriculum Council, it states that, "Employers as well as graduate and professional schools seek Brown graduates for their analytical ability, independence, creativity, communication, and leadership skills, qualities not necessarily reflected in a GPA." The council sums it up perfectly, again coming back to the idea that your GPA doesn't tell the whole story.
Additionally, a number of liberal arts colleges in the US do not issue a GPA to students, nor do they issue letter grades. The New College of Florida, for example, relies on narrative evaluations from professors in place of the traditional grading system.
The academics page of their website states that, "Narrative evaluations promote a true learning environment with no fretting about your GPA and how you rank against your peers. Instead, you focus on the ways you can improve and develop the knowledge, experience, and critical and analytic thinking skills needed in the real world."
SPA does provide narrative evaluations for students at the end of each semester, but this is not enough of a shift away from the emphasis placed on GPA. At the end of a project or test, students receive a grade or score, and probably some short feedback on areas to improve. However, if students received more in-depth evaluations on individual assignments, they would have a better sense of how they did, and teachers would have a chance to make truly meaningful comments. This would also allow for a de-emphasis on traditional grades and GPA, lowering the overall stress that students are feeling.
Another solution would be a pass/fail grading system. While this is implemented in some SPA classes like music, it could be utilized across all departments. The pass/fail system would still award students for doing well in their classes, but without the stress of a number to define their work. Combined with narrative feedback, this would be a great way to grade.
School should be a place to learn and grow, and classes should be enjoyable as well as educational. It's about time we change the grading system to reflect that. Minimize the anxiety students are feeling, and school won't be dreaded as much anymore. Give students feedback that truly reflects their work and tells the whole story, and they will grow more than ever before.
Leave a Comment
About the Contributors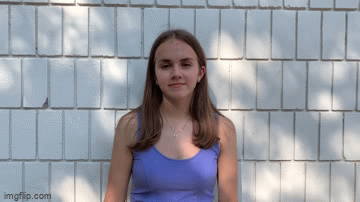 Eliana Mann, A&E Editor
Eliana Mann (she/her) is a sophomore and the A&E editor for RubicOnline. She loves to travel, and even lived in Australia for half a year when she...
Mimi Huelster, Illustrator
Mimi Huelster is the Illustrator on RubicOnline. This is her second year on staff. While in self-isolation, you can find her drawing, making toast, and...