History exhibit tells the tale of Nazi rebels
Near the Redleaf Commons in the Huss Center, a series of photos and captions hang. Upon first glance, they appear to be just black and white photos of people posing, perhaps photos of 20th century alumni. But, look again, and one can discover that the photos and their captions are telling the stories of members who belonged to the White Rose, a non-violent resistance group in Nazi Germany. The exhibit represents collaboration between the language, art and history departments. "Usually we have an exhibit there, and you know, it's student art and such," said Mollie Ward, chair of the history department. "We've never done a sort of a history thing or something different than art, but the art department was down for it, so I brought it over."
Originally, Jutta Crowder, upper school German teacher, prompted Ward to consider bringing the exhibit to SPA. The exhibit chronicles the experiences that individuals from all walks of life had with the White Rose society.
The White Rose society, led by a group of students and a professor at the University of Munich, mainly produced and distributed leaflets and wrote graffiti that called on fellow Germans to resist the power of the Nazis and their government during the second World War. Operating less than a year, the White Rose society disbanded after many members were caught and brought to trial. "[Marty Nash and I] selected the panels that we thought would best tell the story. It just seemed like a good message in this day and age when people are wondering how to become involved in the world around us. What do we do to affirm things we like that we see in the world and what do we do to resist things we see that we don't like?"
Ward went on to explain how the exhibit, put together by the Germanic American Institute, is going to go to several other schools in the Midwest, including a handful in Minnesota.
The exhibit will be on display at SPA until the first week of December.
About the Contributor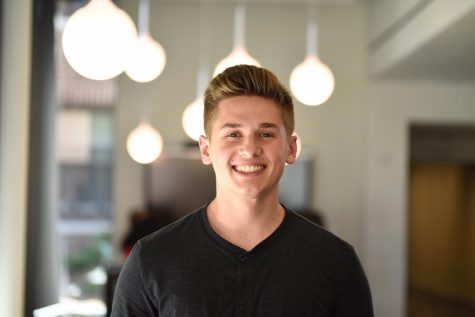 Kelby Wittenberg, News Editor
Kelby Wittenberg is the Rubicon News co-editor at RubicOnline. This is his fourth year on staff. He enjoys RubicOnline because he believes news is the...