GSA moves away from Day of Silence
The silence is deafening. Their voices remain unheard; no sound escapes them as their friends, their family, their school, and their country talks over them. Society has tried to silence members of the LGBTQ community and has often succeeded. Many LGBTQ people and allies take part in the Day of Silence to raise awareness of how the LGBTQ community has been oppressed and silenced in the United States. The day is held across the United States every third Friday of April. However, the Gender and Sexuality Acceptance Club has something different in mind this year.
"GSA has decided not to do Day of Silence this year. As a club, we've decided that the LGBTQ community has been silenced for long enough, so we will not be participating because it seems counterproductive to what the queer community had been doing for years now," junior Victoria Greenman, a member of GSA, said.
The LGBTQ community will not stop fighting until they have a voice. The SPA community has been more supportive than other schools, however, GSA would like to show other schools that they can no longer be silenced. They believe that it perpetuates the silence.
"If LGBTQ people's voices around the world are erased every day in schools, why should we have to continue that silence, just in a more noticeable way?" GSA president Zoe Hermer-Cisek said.
The environment in which one works or learns can influence how well someone is able to make a stand. If a student would choose to partake in the Day of Silence, the student would have to participate in classroom activities all while exercising their right to protest against the system.
"I remember in my freshman year, Day of Silence landed on a Harkness discussion that was a significant part of my grade for the quarter. I had to break my silence for part of the class so that I could participate, but I was very conflicted about making that decision," Hermer-Cisek said.
According to Hermer-Cisek, SPA is one of the better schools across the country to recognize and support their LGBTQ identified students. SPA allows access to all gender bathrooms and school policies protecting students from harassment on the basis of gender or sexual orientation. This does not mean SPA is problem free.
"In past years it seemed that most of the students taking part were LGBTQ, something I and others had also noticed. They felt that taking part puts the burden on LGBTQ students to highlight the way that we are silenced," Hermer-Cisek said.
LGBTQ students hope to get the entire school and nationwide community engaged in some type of movement to protect and give voices to their community. The federal government has laws being voted on that could further hinder their freedom, such as making conversion therapy on minors illegal and banning trans people from serving openly in the military, so the community's support is important now more than ever.
"LGBTQ people and our allies need to speak out on these topics, contact our representatives in government, and try to enact change," said Hermer-Cisek.
The Day of Silence is a crucial movement to understand what needs to change and how society needs to support and listen to members of the LGBTQ community.
The 2019 Day of Silence was Apr. 12.
About the Contributor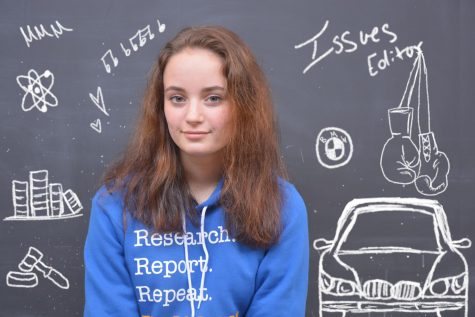 Meagan Massie, The Rubicon
Meagan Massie is the Issues editor on The Rubicon. This is her third year on staff. She is passionate about providing a diverse perspective on the way...