[FOOD REVIEW] Shake Shack opens drive-through, keeps consistency
Shake Shack, a New York-based burger shop, has most recently opened its very first location with drive-through services on Dec. 6 in Maple Grove. The company now has locations in 16 states, and other countries around the globe.
The menu is fairly small given it is a burger shop, offering a variety of burgers, a chicken sandwich, a few different hot dogs, fries, and milkshakes. Despite having a small menu, it has a lot to offer, most items are pretty customizable and there's still something for everyone. They also have a fully customizable concrete selection with a large selection of mix-ins.
I ordered a ShackBurger, Shake Shack's signature burger, which overall was pretty satisfying. It had a good amount of meat that wasn't overcooked, dry, or too thick, but just right. It also had lettuce, tomato, cheese, and the signature ShackSauce. The burger looked extremely appetizing, and was, but was extremely greasy. The bun seemed to have been toasted in a large amount of butter, and when combined with the beef and sauce, made a pretty (delicious) mess. The vegetables were fresh and crisp, so it contrasted greatly against the soft burger patty, cheese, and bun. At the end of the day, the burger was consistent with the burgers from other Shake Shack locations I have previously tried.
What really topped off my experience at this Shake Shack, in particular, was the drive-through. For being the very first time Shake Shack dips their toe into the drive-through industry, they have it down to a science. Most drive-throughs at other restaurants seem to have long lines, bad service, and sometimes are very backed up on orders. I entered the drive-through, placed my order, paid, received my order, and left the parking lot, in under three minutes. It may have been one of my smoothest experiences in a drive-through. My order was hot, ready, and correct, as soon as I approached the window to pay. While it may not have been the busiest time of day for them, they still had around 10 other cars that they were servicing at the same time, three minutes is still extremely efficient by comparison to other drive-throughs. There were visibly a lot of employees working to get orders out in an organized and timely manner, without sacrificing their standard of service and quality.
The Shake Shack drive-through location is located at 12351 Elm Creek Blvd N, Maple Grove, MN 55369 and is open from 11 a.m. to 9 p.m. Monday through Wednesday, 11 a.m. to 10 p.m Thursday, 11 a.m. to 11 p.m. Friday through Saturday, and 11 a.m. to 10 p.m. Sunday.
Leave a Comment
About the Contributor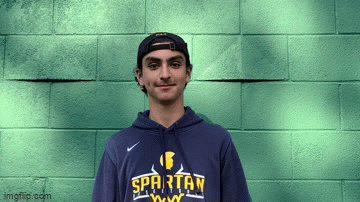 Salah Abdulkarim, Editor in Chief
Salah Abdulkarim is the Editor in Chief of The Rubicon. This is his fourth year on staff. Over the summer, Salah was an intern at the National Scholastic...