[FOOD REVIEW] Mi-Sant showcases Vietnamese cuisine in the Twin Cities
At Mi-Sant Kitchen and Bakery, you can get delicious, fresh Vietnamese sandwiches at almost the same price as most fast food sub shops. When you first enter, you can see a large rotating oven with perfectly long and golden baguettes that fill the entire shop with a beautiful smell. Further into the shop, there is a counter display of baked goods, the cashier, and a handcrafted boba and coffee bar.
The Roseville location is currently doing a soft opening, with no word on a grand opening. They are open Monday through Saturday from 9 a.m. to 8 p.m and closed on Sundays. Mi-Sant was founded and is ran by second-generation Vietnamese American immigrants and has one other location in Brooklyn Park.
When I went, I ordered a lemongrass chicken banh-mi with a royal milk tea with tapioca. A banh-mi is a traditional Vietnamese sandwich on a baguette and usually has meat and pickled vegetables. Words can not describe how good it was, but I'll try my best. This sandwich, in particular, had lemongrass chicken, mayonnaise, jalapeno, cilantro, cucumber, pickled daikons, and carrots. Taking a bite out of it was pure bliss, the baguette was hard on the outside but soft on the inside, clearly very freshly made. The chicken had tons of flavor, which went great with the fresh vegetables and jalapeno. Then there were some hints of sweetness and sourness, which I presume was from the pickled daikon that just blew the entire sandwich out of the park. The sandwich was packed with fresh ingredients and had a great balance of saltiness, sweetness, sourness, and spiciness, giving it an amazing umami flavor. Making a sandwich using a baguette can be very difficult because of the dryness of the bread, but surprisingly, that wasn't an issue with this sandwich. The vegetables were distributed across the sandwich well, which made it like taking small bites of water along with the meat and bread. The royal milk tea was alright, but had a unique flavor that was a little hard to recognize. Towards the end of the cup, there was what seemed to be a caramel-y syrup, just a little more bitter. Overall, the milk tea was alright, but lacked a slight sweetness that I think is important in a boba drink.
I think the price was extremely fair for the size of the meal, quality of the ingredients, and taste. Before taxes and a tip, the sandwich was $6.50 and the tea $3.50. Although these are just two items from a vast menu with many other items, such as egg rolls, spring rolls, and bowls, I would confidently give my experience five stars. Mi-Sant Kitchen and Bakery is located at 1881 MN-36, Roseville, MN 55113, and you can order ahead for either location online at https://mi-sant.com/.
Leave a Comment
About the Contributor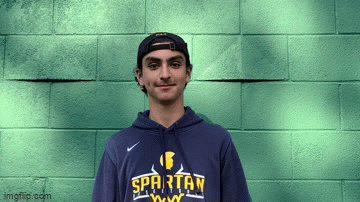 Salah Abdulkarim, Editor in Chief
Salah Abdulkarim is the Editor in Chief of The Rubicon. This is his fourth year on staff. Over the summer, Salah was an intern at the National Scholastic...