Ensemble cast brings to life the best musical you've never heard of
US Spring Musical Review: Once On This Island
It is curtains for the Upper School musical Once on this Island. A story of life, love, and loss, Once on this Island was a well rehearsed, song filled production. Centering on a small Caribbean island where two separate groups of people live, it is a musical and reminiscent of Romeo and Juliet and The Little Mermaid.
What this musical does differently from others is that it has multiple ensembles that nicely come together as opposed to having leads and many supporting characters. Everyone plays a major role in making sure that the musical is as good as it can be.
"Everyone is really important to this show," sophomore Grand Hommes ensemble member Alice Tibbetts said.
Many underclassmen are able to reflect on memorable performances in a little known production.
"I have never heard of it before, which made it a really fun to learn what it was about. That made it different from Hairspray last year which is very popular. Plus, this show has a really strong message," sophomore Grand Hommes ensemble member Tommy Monserud said.
Working for upwards of seven weeks just to put on three performances, the actors got to spend a lot of time together. They have all come to know that it is a challenging but fun process, and one that helps to create many friendships.
"I have had a lot of fun just being with the actors. They are a really good group of people to be around," freshman Gatekeeper Ivan Gunther said.
The seniors are sad that they will not be able to perform on the US stage again, but are happy with the last performance that they were able to put on.
"It is still very fun, but it is kind of sad because I am going to miss everyone. I think I am just going to miss the whole atmosphere of SPA [St. Paul Academy and Summit School] theater because we are so close," Emma Chang said, who played the lead of Ti Moune.
With her last role at SPA, Chang put on a performance to remember.
The musical is not necessarily uplifting, but all of the students performed their hearts out. Everyone was on point when they were singing, whether it was a solo or an ensemble, the music was engaging and the students rose to the complexity of the songs. With only a few slip ups while dancing, the show was beautifully choreographed. A lot of character went into everyone's movement, and the ensemble was bursting with talent. Everyone came together to end the year of theater with a show that was visually and musically stunning.
About the Contributor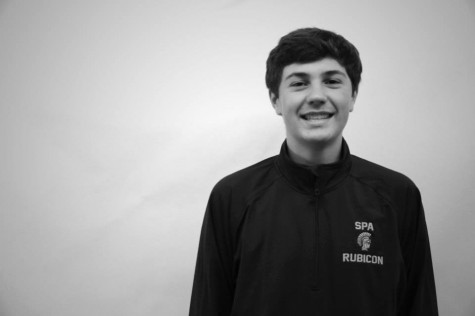 Patrick Commers, Head Photographer/Arts Reviewer
Patrick is a junior at St. Paul Academy and Summit School. Patrick has two passions (other than The Rubicon of course): baseball and politics. He plays...