Minnesota legalized cannabis on August 1, and smoke shops seem to be popping up everywhere. As the debate surrounding marijuana legalization continues to evolve, it is important to analyze the impacts of cannabis use. Many Americans, including cannabis users and non-users alike, believe that marijuana is not addictive and use will not lead to dependency. However, recent research suggests the widespread prevalence of cannabis use disorder among teens and young adult cannabis users. Cannabis use disorder is classified differently than other substance addictions but has negative consequences. The legalization of marijuana comes with a responsibility to understand and acknowledge the risks of consumption, and we must debunk the notion that marijuana is not addictive.
A study published in The Journal of the American Medical Association Network Open (JAMA Network) revealed that over one-fifth of individuals who use cannabis struggle with dependency and problematic use. The study's findings indicate that 21% of participants exhibited some degree of cannabis use disorder, with 6.5 % experiencing a moderate to severe disorder.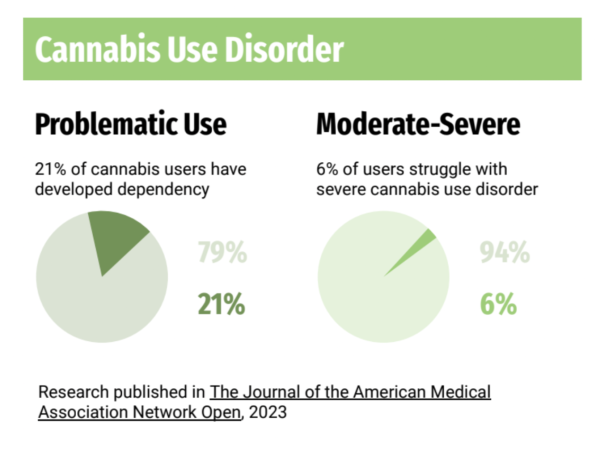 The study involved around 1,500 primary care patients in Washington state, where recreational cannabis use is legal. Participants in the study identified themselves as either medical users (42%), non-medical users (25%), or both (32%). These findings challenge the widely held belief that marijuana is a benign substance with little potential for addiction.
Clinicians define cannabis use disorder as a pattern of problematic cannabis use leading to various symptoms, including recurrent social and occupational issues. JAMA Network identified that individuals with more severe dependency were often recreational users. Common symptoms among groups of both medical and recreational users included increased tolerance, cravings, and an uncontrolled escalation of cannabis consumption.
The American Psychiatric Association's Diagnostic and Statistical Manual of Mental Disorders, Fifth Edition, outlines criteria divided into four categories to diagnose the disorder. If an individual meets two or more of these criteria, they have the disorder:
Loss of Control
Interpersonal Consequences
Risky Use
Physical Dependence
These criteria underscore the potential for cannabis addiction and emphasize the importance of recognizing the risks associated with its use.
While we should celebrate the legalization of cannabis and the rise in smoke shops may signify a thriving new industry, it raises concerns about the well-being of teenagers and adults and the future implications of widespread cannabis use. It is important to stay informed about the risks of marijuana and approach its consumption with a balanced and evidence-based perspective. The narrative surrounding marijuana is constantly evolving, and so should our understanding of its possible consequences.