[BOOK REVIEW] Multigenre mystery makes Where the Crawdads Sing remarkable
The fifteen dollar book, Where the Crawdads Sing by Delia Owens, has spent thirty-two weeks as the number one Hardcover fiction bestseller and thirty-one weeks as the number one Combined Print & E-Book Fiction best-seller on The New York Times list.
By the first sentence, I knew exactly where this book was taking place. Delia Owens writes four simple words explaining how the marsh is not a disgusting swamp, but a beautiful, natural place that is home to the main character, Kya. By the thirteenth page, not only did I know who all of the characters were, but I felt sympathy for all of them.
Through a careful mix of specific details, simple logistics, and poetic details, Owens drags the reader into the marsh with her. The North Carolina marsh is not only a home for Kya, but it is evident that the swamp is also a home for Owens. Owens describes the setting with such intent details making me memorize each corner so that each time I pick up the book, I too feel right at home.
The readers watch Kya grow up alone and barefoot in the wilderness. Inconsistent visits from her abusive and alcoholic father who has pushed the rest of her family away keep her alive when he remembers to leave a small amount of cash on the kitchen counter. She racks her brain for memories of how her mother used to cook grits for breakfast, and over time learns to survive from this and a few biscuits. Her father soon abandons her too.
As Kya becomes a teenager, she begins to explore the idea of love and boyfriend. Kya's only example of a relationship was abusive and ended before she started school. Her lack of love from her parents as a child is most likely the source of the necessity of love from a boy. She continuously searches through science textbooks to find a reason as to why her parents left her and for an explanation of how love works. Most teenagers walk through life searching for answers for questions similar to Kya's.
Weaved in between the life story of Kya are the tellings of a murder mystery occurring seventeen years after the majority of Kya's family abandons her. Chapter by chapter, these stories run into each other, slowly making clear that the killed man in the murder mystery is the same man that Kya fell in love with. At first, this murder mystery seems out of place in between the chapters of survival, but as I found more information, I began feeling a pull between the relationship Owens established between Kya and me and the new information from the police department making her a suspect. As much as I hated knowing that she could go to jail, I loved feeling the tension between the stories.
As described on the cover flap, "Where the Crawdads Sing is at once an exquisite ode to the natural world, a heartbreaking coming-of-age story, and a surprising tale of possible murder." In my opinion, this book is not a story of nature or wilderness, the murder is only a fraction of the full story, and the growing up falls in the shadow of the extraordinary life of a girl fighting every minute to find a way to achieve happiness and survival in the 1950s-1960s, first with an abusive father and then in the wilderness.
Each line that Delia Owens writes hold the reader to Kya as she grows into a young woman and the murder mystery falls into place with her story. Not only is it an intriguing mystery of how Kya will survive alone or the murder investigation, but Owens also includes romance in the mix. Even though most of us will never be in Kya's shoes or bare feet, we can all use her as motivation, and her story as an instruction manual on how to be independent when nature forces us to be. Owens writes in multiple genres at once, romance, mystery, nature writing, and survival, allowing the book to find a home in the hearts and minds of everyone who picks it up. Balancing on the corners of multiple genres, "Where the Crawdads Sing" remains the most relatable book I've read so far.
Owens is currently working with Reese Witherspoon, Reese Witherspoon's Hello Sunshine and Fox 2000 on a movie adaptation in the next few years.
About the Contributor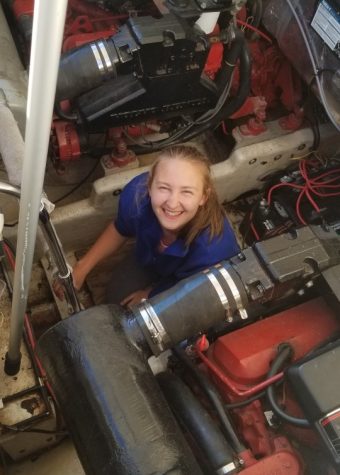 Elizabeth Trevathan, Director of RubicOnline
Elizabeth Trevathan is the Director of RubicOnline. This is her third year on staff. Her parents own an essential business, so she has been attending school...