[GAME REVIEW] Animal Crossing: New Horizons is the perfect release amid COVID-19
With quarantine leaving people stuck at home and lonely, there isn't much to do. For students— especially those who are used to going to classes and academic activities every day—being stuck with your family 24/7 and not being able to meet up with friends is increasingly uncomfortable. Ever since classwork began in March, many students have also been stressed out from assignments, tests, papers, and most recently, AP exams. The constant anxieties from the coronavirus' spreading don't help, either.
So, what can be done about these stressors? There aren't any activities to do, like going to restaurants or coffee shops, and hanging out with groups of friends is unacceptable during the lockdown. Luckily, if you're looking for ways to entertain yourself during quarantine or ease your mind in this stressful time, look no further. Nintendo has your back with their latest release: "Animal Crossing: New Horizons."
The game was released in March, which seems to be the perfect timing, considering the growing coronavirus pandemic. The game opens up with your character moving to a deserted island with a select few companions, and you are immediately put to work. Whether it be making tools, decorating your house, gathering fruit, fishing, catching critters, or building relationship with your neighbors, this game's therapeutic qualities make it the exact kind of game we need right now.
Nothing is urgent in Animal Crossing; everything can be taken slowly and anything can be put off indefinitely. With the game set in real-time, Animal Crossing is extremely customizable, giving the player all the control they want over their island. Seemingly mundane activities like fishing or catching bugs can be safe havens, especially while the virus prevents us from doing similar activities in real life.
"
Now is a better time than ever to fully immerse yourself into another world."
One of the favored features of "New Horizons" is the social element of the game. You can visit your friends' islands, which makes for a unique way to virtually hang out with friends and keep you safe. Animal Crossing is stress-reducing and what everyone could be using during COVID-19 to safely social distance. Whenever reading the news of the spreading virus is too unbearable, you can log into your island, hang out with your friends, and let the time pass slowly and comfortably.
Animal Crossing: New Horizons has quickly become one of the best-selling franchise games in Nintendo's history. Many people who previously weren't interested in Nintendo's console, the Nintendo Switch, are now purchasing the device just to experience playing this game: the console has sold out across the nation. Animal Crossing is a popular trend currently for many teens and adults, so playing it has become a quarantine staple. It is the perfect game to get lost in for hours.
Now is a better time than ever to fully immerse yourself into another world. Assuming you have the luck to find the sold-out game and console, purchasing this game is a perfect way to spend the quarantine when school gets too stressful. Currently, my personal island is very underdeveloped with cherry trees growing wildly and my villager's houses not yet organized how I would like them to be. But am I worried? No. We now have all the time in the world.
Rating:★★★★★
Leave a Comment
About the Contributor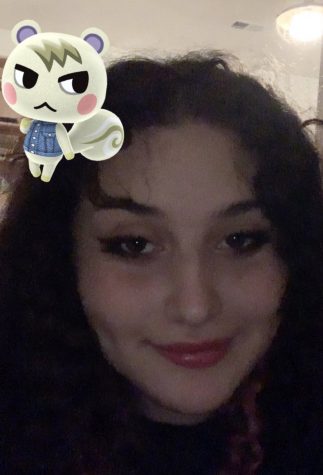 Lara Cayci, Opinion Editor
Lara Cayci has been on the RubicOnline staff for three years, working as a Staff Writer, co-Opinion Editor and Illustrator. While staying home during the...