Teams support Coaches vs. Cancer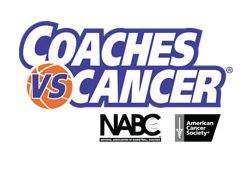 Upper School Basketball Teams continue to support Coaches vs Cancer with fundraising and games focused on awareness.  Both boys and girls play on Feb. 5, with games starting at 4:15 in Briggs Gymnasium.

Players will be selling "I support the fight against Cancer cards during during lunch Wednesday, Thursday and Friday this week. The Coaches vs Cancer cards cost $1.00 each and can be personalized. Students may charge a donation (minimum $5.00) to their school account.
The teams have planned several ways fans can contribute to the fight against Cancer Friday night, including raffle tickets, bidding on the number of 3 pointers that are made in the games, or entering the silent auction.
This annual event is sponsored by the National Association of Basketball Coaches and supports research efforts.
Leave a Comment