Spring Concerts embrace a myriad of styles and songs
Dramatic drums, clashing cymbals, and flashy fortes. In other words, the sounds and music of the 2018 Spring Concert encompassed a wide variety of musical styles and songs. The concert ran Apr. 28 from 7-9 p.m. for the US choirs and orchestras, while the MS/US jazz bands performed on Sunday from 2-3 p.m.
As per the tradition of the spring concert, the music selection focused more on classical pieces. Director of Orchestra, Almut Engelhardt, explained what criteria she and the students look for in the songs they play:  "Both ensembles [of the orchestra department] focus on repertoire and composers that are well known…pieces and artists a person with a good background in music would be familiar with. We also cover a wide spectrum of genres (symphonies, operas, operettas, etc.). And of course, we aim to find music that will be fun to play while allowing us to improve our skills, both as an ensemble and individually."
The two orchestra ensembles, Academy Symphony and Honors Sinfonia, played separate pieces. Academy Symphony played New World Symphony, "First Movement" by Antonin Dvorak, The Barber of Seville, "Overture" by Gioachino Rossini, "Aragonaise" from Carmen by Georges Bizet.
Ninth grader Annika Rock said her favorite piece was "Aragonaise."
"My favorite song is this piece [from] Carmen, only because our part is really easy. I think it sounds so cool because it's higher pitched, with first violins and flutes playing," Rock said.
Honors Sinfonia focused on more difficult music with Orpheus In The Underworld, "Finale" by Jacques Offenbach, "Pie Jesu" from Requiem by Andrew Lloyd Webber, and "Waltz No. 2" from Suite for Variety Stage Orchestra by Dmitri Shostakovich.
The choirs, Summit Singers, Summit Chamber, Academy Chorale, Academy Chorale Chamber, and SPA Community Chorale collectively sang Bright Morning Stars by The Wailin' Jennys, Seal Lullaby by Eric Whitacre, Light of a Clear Blue Morning by Dolly Parton, Homeward Bound by Simon & Garfunkel, Now is the Month of Maying by Thomas Morley, a medley from West Side Story, "This is Me" from The Greatest Showman soundtrack, Have Ye Not Known? Ye Shall Have a Song by Randall Thompson, Hope for Resolution by Paul Caldwell, and Beethoven's 9th Symphony (4th Movement) in conjunction with the two orchestras.
"We're also [did a] collaboration with the choir, so that's…kind of of cool," Rock said, referring to Beethoven's 9th Symphony.
On Sunday, the jazz band performance featured three sections of jazz band: Advanced Jazz, Intermediate Jazz, and Middle School Jazz Band.
Advanced Jazz played Haven't Met You Yet arr. Ragsdale, w/ vocalist, Spain arr, Jennings, Boptitude Test by Mark Taylor, Caravan arr. John Wasson, Land of Make Believe arr. Mark Taylor, and Isfahan arr. David Berger. Intermediate Jazz played Sidewinder arr. Mark Taylor, Artistry in Rhythm arr. Murtha, Linus and Lucy arr. Roger Holmes, Treasure arr. Vince Lopez, Porto Garibaldi by Greg Yasinitsky, Love is Here to Stay arr. Rick Stitzel, and Closer Than You Think by Bret Zvacek.
About the Contributor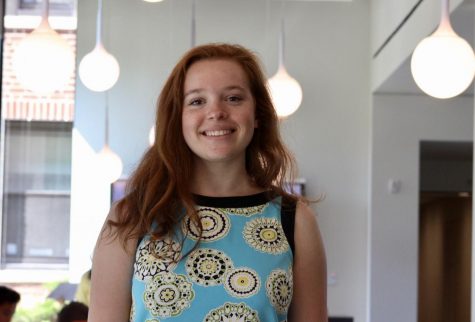 Chloe Morse, Managing Editor

Senior Chloe Morse is a self-motivated leader, scholar, and Managing Editor of The Rubicon.  Outside of school, Chloe is a voracious reader, constantly...