The human fascination with animals and pets has been an ongoing affair for hundreds of years. According to the American Pet Products Association, 66% of households in the U.S. own a pet— or 86.9 million households. That's a lot of pets. Turn on the TV, open up TikTok or Instagram, or even walk through the SPA hallways; pets are everywhere. Plus, all of these pets have names. So how do people choose these names, and what significance do they hold?
Naming has always been essential to the relationship between people and their pets. Sophomore Zain Kizilbash has a parrot named Sky: "I named her Sky because she is blue— like a pale-ish color. I was not very creative when I was younger," he said.
Still, the fact that he was able to name her was important to Kizilbash, and he thinks this is true for many other pet owners as well. "Naming a pet yourself gives you more of an attachment," he explained.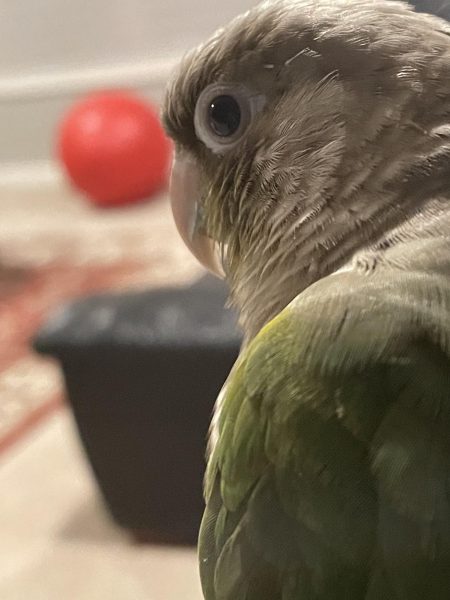 Kizilbash used parent-child relationships as another example. Like pets, being able to name a child makes the relationship more special, considering the frequency with which names are used. These names are some of the first symbols of identity as a baby is born or a pet enters a family. Names can change how they are perceived and even how they perceive themselves, though mainly the prior for pets. Kizilbash added, "When you have a pet, they become part of the family. And when they have names, they become more of their own individual."
Sophomore James England has a German Shepherd named Roscoe. England was initially placed in charge of naming the dog, but he couldn't decide on a name, so his mom took over, and they decided on Roscoe, the name of his mom's childhood dog.
England likes the name because it's so unique, and it makes his relationship with Roscoe that much more special. He thinks too many people name their dogs the same thing. For example, some extremely popular dog names include Bella, Luna, Max, Daisy, and Charlie. "It makes Roscoe seem more like his own individual and not just like everybody else," England said.
"
When you have a pet, they become part of the family. And when they have names, they become more of their own individual.
— Zain Kizilbash
Sophomore Nellie Larson has two cats, Peanut and Popcorn, a dog, Pickles, and a guinea pig, Ted. Larson got Pickes three years ago, and her name inspired Peanut and Popcorn, keeping the "P" trend going. Larson's brother named Peanut and Popcorn, but she named Ted, who she got six years ago. Though she doesn't remember why she chose the name, it has become an important part of their relationship: "[His name] is important [to me] because I picked out her name when I was really little, and it's cool to think about how long I've had him," Larson said.
Though pet names may be more about the owners than the animals themselves, they are a crucial part of the relationship for many pet owners. As Kizilbash, England, and Larson demonstrated, pet names should be appreciated for more than their surface value. Everybody likes pets, so ask questions and learn the story behind the names of these cute, lovable animals.