[TWO SIDES, ONE ISSUE] Hybrid vs. distance
October 22, 2020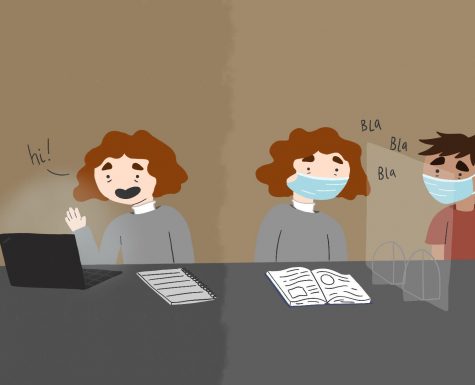 Hybrid learning ensures human interaction and minimizes stress
Middle and Upper School students returend to campus Sept. 29 on a hybrid learning schedule. After three straight weeks of long and tedious distanced classes, the new schedule was finally put into place with strict COVID-19 restriction protocols, including brand new, state-of-the-art HVAC systems, one-way hallways, limited class sizes, and plexiglass dividers in the cafeteria and small gym for lunch.
The schedule has set up students and faculty for success. For upper school students, in-person classes occur on Monday and Tuesday, Wednesdays alternate (9-10 go in one week; 11-12 go in the next), and distanced classes take place on Thursdays and Fridays.
Hybrid learning has been and will continue to be much less troublesome and less stressful than distance learning is. During online classes, most students were utterly exhausted and had pounding headaches at the end of each day due to the extended amounts of screen time and a small number of breaks throughout the day. Adding on, a lot of different students and faculty members had rapidly declining mental health due to the prolonged screen time and minimal human interaction. Although SPA has done their best to combat these problems by adding a five minute break time between classes for online students, it is still too much time on the screen.
"
Hybrid learning has been and will continue to be much less troublesome and less stressful than distance learning is."
The ability to be in the classroom is an experience that can and will never change. It is much easier to pay attention and grasp concepts much faster, causing more substantial success rates. Adding on, it is always important to set out times throughout the day for students to meet with teachers, get some extra homework down, and chill out a little. While being distanced, it is harder to learn, as every student can completely tune out. Over the computer screen, teachers cannot tell when a student is not paying attention, when they are on their phones, playing video games, or even making something to eat. Technology problems have made a considerable impact during distance learning. Some students have hard times getting to class, whether it is due to technology glitches, no WIFI, or other computer errors. Being in person is a much easier route for both students and teachers.
Even though students still need to participate in up to three days of online learning each week, the in-person break, filled with human interaction and a sliver of normalcy, completely help students stay on the right track with school. After such a long break from others, especially friends, it was difficult for most students to 'go to school' without what most people would consider the best part — the communication with others.
Each distanced class, most students come into their specific Google Meet with muted microphones and no real energy for school. Usually, the teacher begins talking, the lesson starts, maybe an occasional breakout room discussion forms, and then the class is over. Besides what is most likely a 5-10 minute talk with peers and teachers, online learning does not have the same interaction and overall enjoyment.
The hybrid learning structure is much better than that of the distance, and it will stay that way throughout the year. Although COVID is a highly transmissible virus, the guidelines put into place by the SPA administration have given everyone hope that we will stay in the far superior hybrid learning schedule. For the first time since March, one facet of life is finally able to make its returns — giving students and faculty some normalcy and fun in this odd and uncertain time.
Loading ...
Leave a Comment
Distance learners get the best of both worlds
With a couple weeks of hybrid learning under the belt, it is becoming increasingly clear what version of class allows students the best chance to succeed. The word succeed in terms of both fulfillment in learning and production of grades. As St. Paul Academy & Summit School looks ahead to the rest of the year, it is faced with a decision as to whether or not the hybrid schedule should continue or switch back to the distance module. This decision has been mostly presented as students only attending through distance if there is a health reason, but that belief needs to be changed to allow students to make the decision based on their chance of success.
As long as students are learning from home, there is no way that class time can be structured so that the students in person can get the same learning experience they have had in previous years. Now yes, the administration is working to allow the best learning environment for everyone all at once but the effectiveness of that learning environment has decreased for in person learners dramatically from last year to this current, COVID-19 altered, year.
The students who are choosing to go to the hybrid model and spend half of their week in person are subject to rules regarding every part of their day that take away from any informal learning time that might have been possible in prior years. A math class, for example, can take place and the teacher can explain the lesson to both the in person and online students and everyone will get the same material. The advantage to being in person would be that after the lesson a student would easily be able to talk with their teacher and discuss any questions they might have and ultimately the broader concept of the topic is more easily developed by the student. This allows the student to be more fulfilled in their learning and they will almost certainly see that reflected in their grade. The problem is that this informal time is taken away from students who find that their in person classes are just as silent as distance classes and the time for students to meet with teachers in the form of tutorial and X-period has, for the most part, been taken away.
"
It becomes so much easier to learn from a distance."
Students at home have every ability that an in person learner does, but they do not have to spend their day worrying about things like walking the wrong direction down the hallway to the bathroom. Instead they can function comfortably and focus on the task at hand. In turn, they will have far more time to spend on school work relative to in person learners. When Upper School students go back to distance learning for the second half of the week, homework load becomes much more manageable, not having to wake up as early, and having work in the same spot are just a few reasons why it becomes so much easier to learn from a distance.
Complete in person learning will always be better than distance but that is only if that in person learning allows for the full function of both teacher and student. The health of the students has taken precedence up until this point so if student health isn't the same as the day-to-day health from past years, there is hardly a reason to be in person at all. Until hybrid learning can allow for students to go about their school day like they would have before COVID-19, it is not worth going hybrid other than interacting with peers, despite so often being pushed away by a six foot stick.
Leave a Comment