Are we really prepared to go back to school? Yes.
Like every aspect of life, the COVID-19 pandemic affected the return to school for students across the nation. While President Donald Trump continues to push for the reopening of all schools, the decision of whether or not to return to campus ultimately lies in the hands of the governors of each state. In Minnesota, most public schools in the Twin Cities — including Minneapolis and Saint Paul Public Schools — remain in complete distance learning. Private schools, however, are allowed to make the decision themselves on whether or not to return.
Saint Paul Academy and Summit School has decided to comply with Minnesota Governor Tim Walz's Safe Learning Plan (SLP). In compliance with the SLP, the Upper School is in complete distance learning format while the lower school has returned to campus. The current plan is for Upper School students to return in a hybrid format Sept. 29, with in person classes on Mondays and Tuesdays, alternating Wednesdays at 50% capacity, and online learning for all Thursdays and Fridays.
SPA has gone above and beyond in preparing students for a return to campus. They invested in upgraded HVACs and other ventilation systems, OWL learning cameras, restructuring classrooms and further lowering already small class sizes. They have even given families the option of opting out of the return to campus with the ability to continue to learn from home.
While some private schools in the area have returned to campus with as little accommodations as requiring masks and sending students with last names A-L one day and M-Z the other, for the time being, SPA remains in a distance learning format.
SPA students should be back on campus. The diligence of the staff and their priority of safety is apparent. They have spent time, effort, money, and resources to make sure students are safe when, or if, they return. When students go back to school, there will be one-way hallways, desks separated by plexiglass, continued use of the Magnus Health App, as well as many other precautions that the administration is enforcing in order for SPA to be a safe space in terms of physical health.
The administration's decision to stay at home for distance learning is both confusing and frustrating. SPA is very capable of returning to campus, especially in comparison to other private schools in the Metro area. If other schools are able to return to campus with as little as a mask and the promise of social distancing, SPA students should have no problem.
SPA is fortunate due to its small class sizes. Not all schools should be returning to campus. Public schools do not have the same luxury; students crowd the hallways and classrooms, and there is a lack of funding for the needed facility upgrades. It is optimal for larger schools to remain in a distance learning format for the foreseeable future.
"
If other schools are able to return to campus with as little as a mask and the promise of social distancing, SPA students should have no problem."
Although serious reformation of the distance learning schedule occurred over summer, there is no substitute for in person learning. In April, students had each class once a week for only 30 minutes. Now, every day is structured nearly the same as regular school day. While sitting at home, it is hard to build serious community and relationships with classmates and teachers.
It is also harder to learn while staring at a computer screen for four 85 minute classes each day. The students might not even be paying attention; they could be on their phones, viewing another browser, playing video games, or anything else because the teacher cannot see everything happening in the room. The technical difficulties, while expected, continue to frustrate. Even though there is a built in tutorial session at the end of every class, it is not easy to talk to teachers. Some people would prefer privacy when speaking with teachers, rather speaking one on one in a tutorial session in school, rather than speaking in front of the whole class when they have a question. Simply said, online school is not a replacement for face to face interaction.
The SPA community is ready to return to campus. The administration has gone above and beyond to accommodate social distancing policies, spent time and money to improve the air quality and navigability of the school, and much more.
The only thing left to do is put students back in the classroom.
Leave a Comment
About the Contributors
Thomas Reinhart, Sports Editor
Thomas Reinhart is a Sports Editor on RubicOnline. This is his first year on staff. Some of the things Thomas has done during this time include playing...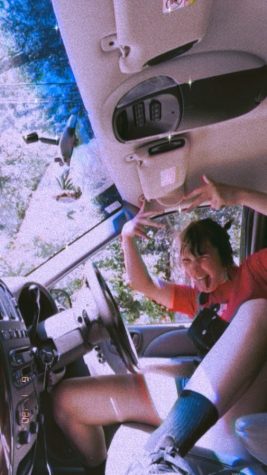 Adrienne Gaylord, Feature Editor
Adrienne Gaylord is the Feature Editor on The Rubicon. This is her second year on staff. In recent times she has been seen biking around South Minneapolis...