Students shop intentionally for prom attire
May 25, 2023
Sustainability "Under the Stars"
As the most anticipated dance of the year approaches, students close in on their outfits and make the final cuts. This year's prom will be held at the Science Museum of Minnesota with the theme "Prom Under the Stars."
Although it is natural to want to buy a new outfit just for the occasion, dresses that fit the theme of prom often don't fit in anywhere else. Many people buy expensive dresses and suits only to wear them once. This wasteful behavior has become normalized and fashion is prioritized over sustainability. After events are over, the outfits sit in the back of closets collecting dust. When prom season ends, reselling websites and apps are flooded with students trying to sell their worn outfits at a discounted price. Junior Kate Hanf said, "I wanted to buy something that I could potentially wear again in the future and … that was a pretty color from a store that was good for the planet." When scouring online stores, Hanf looked for a versatile dress that she could wear not only for prom but for weddings and other functions.
"
I wanted to buy something that I could potentially wear again in the future and … that was a pretty color from a store that was good for the planet
— Kate Hanf
Another eco-friendly option is to thrift or reuse prom outfits. Junior Reilly Ringness spent weekends thrifting for parts of his outfit. "I don't really have enough money to buy an outfit new and I guess [thrifting] is eco-friendly," he said. He used his Pinterest board as inspiration and incorporated the theme by picking out blue slacks from Goodwill.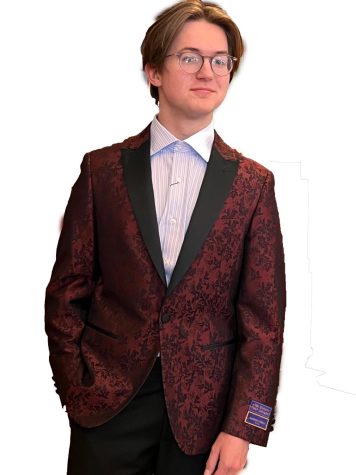 Senior Soren Miller also took into account the reusability of his suit when shopping at a haberdashery. "I definitely plan on wearing this suit into college and possibly beyond. I don't like to make expensive purchases that I will only use once. It would be the same as buying a car with the intention to wreck it from the moment you bought it," he said. Other determining factors he considered were his parents' opinions and his prom date's outfit. "The most time-consuming part of the process was getting myself, my mother, and my father to all agree on one suit. We all have very different styles but in the end we were able to settle on a suit," Miller said. After an entire day of trying on suits at the haberdashery, Miller chose a red maroon blazer with a black floral pattern paired with black pants to compliment Valerie, his date's, red dress.
It is completely reasonable to buy a new outfit dedicated to an important event such as prom. But before choosing an outfit, consider other situations it can be reworn in to prevent wastefulness.
Leave a Comment
Silk and sparkles: where to shop for prom attire
Prom season is in full swing: prom pictures flood every social media platform, chatter of promposals can be heard throughout the halls, and many students have begun spending their free periods and tutorials searching for prom attire online. SPA's prom falls in the later end of most Minnesota high school proms, and will be hosted on Wednesday, June 7 at the Science Museum of Minnesota. Attendees are encouraged to dress semi-formal to formal, and the theme is Prom Under the Stars.
With slightly under a month before prom, many juniors and seniors have begun planning what they will wear on the iconic night. While some students take inspiration from the theme, others ignore it. For some, choosing prom clothing is an easy decision, while for others, it is a multi-month ordeal.
Violet Benson's prom attire was dictated by two primary factors: affordability and sustainability. Benson thrifted a simple black dress, featuring an open back and silky fabric, for $20 from Everyday People Clothing Exchange.
"I was definitely inspired by the theme: Under The Stars. I wanted to find something that I could style in a way that emulated the starry night feel. I also wanted to make sure I would be able to be comfortable and feel good in my outfit," Benson said.
She knew that thrifting her prom dress would save money and also benefited the environment, and although searching for the dress was a process, she believes it will pay off on prom night.
"
My New Year's resolution was to not purchase any new clothing—new being straight from the brand–and only buy used clothes.
— Violet Benson
"When I'm looking for a specific piece of clothing I will usually go on an online thrift site (usually Depop) however I knew that that could be risky with sizing and shipping, so I went to Everyday People," Benson said. "My New Year's resolution was to not purchase any new clothing—new being straight from the brand–and only buy used clothes."
As far as styling her dress, she hopes to get creative by focusing on the small details like hair, jewelry and shoes.
"Anyone who knows me knows I love converse shoes, so I will probably be wearing those," she said.
Whereas Benson got thrifty, junior Wafa Naqvi sought tradition and re-wearability.
"Both of my sisters wore traditional Pakistani clothes to their junior proms, and I was kind of like, 'I want to do that too'," she said.
Naqvi looks forward to wearing her prom attire past June 7. Where many dresses, she noted, are left in the closet past prom night, she will rewear her outfit for future weddings and special events.
Naqvi's prom night look features a lehenga (a long skirt with a matching cropped shirt), churiyan (a set of bracelets), traditional Pakistani earrings and a pair of heels.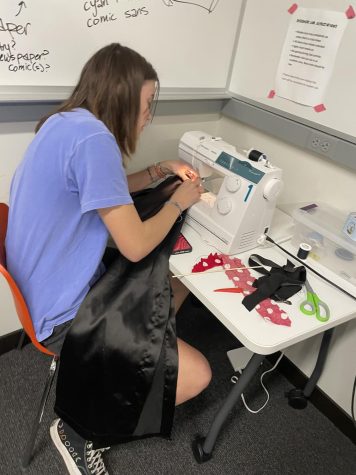 "[The lehenga is] really covered in, sparkles and stuff like that. So I don't think I'm gonna wear a necklace," Naqvi said. "You also have something called the devata which is kind of a piece of fabric that you wear over your shoulder or around your neck. I'm still debating on whether I should wear that or not."
Naqvi plans to have her older sister style her hair in an updo because the lehenga itself is so busy.
Still in search of an outfit for the special night? Check out these prom clothing hidden gems.
1. Pass Down The Gown
An online dress rental company that provides pick up, shipping, or delivery services. Pass Down The Gown is a female and locally owned company.
2. Reformation
A sustainable clothing company that sells a wide variety of items, including formal dresses. Maxi dresses are on the pricier side, starting at $128 and up to $748.
3. Nordstrom Rack
A classic, less expensive alternative to purchasing directly from Nordstrom. Suits start at $99.99.
4. Poshmark, Depop, eBay, Curtsy
Online thrift stores and item reselling services. Can filter for desired price, brand, or shipping fee. Great for suits, ties, dresses and other prom attire.
5. Asos
Clothing retailer with thousands of styles. Perfect place to purchase suits, dresses, or more if variety and uniqueness is important. 
Where should you find your prom attire?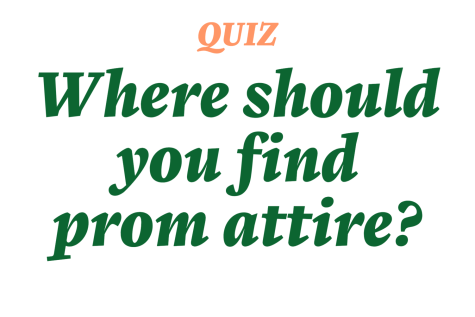 Loading...
There was an error. Please try again.
Leave a Comment