Junior Rohan Kharbanda's Advanced Science Research project plans to solve two environmental issues by adding plastic to concrete to create a more flexible and environmentally friendly product.
Plastic takes typically 20 to 500 years to decompose in landfills. Kharbanda plans to use a specific type of plastic called polylactic acid, commonly used in the 3D printing industry. "I am very interested in 3D printing and saw that a lot of the [plastic] byproduct was wasted in the manufacturing process," Kharbanda said.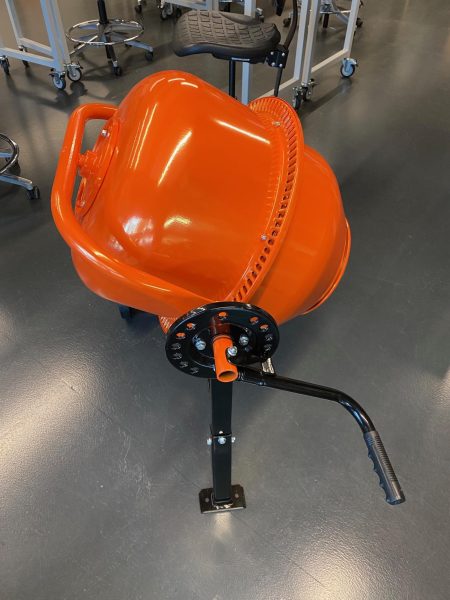 Making concrete also produces a lot of greenhouse gases and contributes to around 8% of global carbon emissions every year (PSCI). Kharbanda hopes to place PLA in concrete in a way that reduces the utilization of greenhouse gases.
The production process for concrete combines cement and aggregate, usually sand or gravel, together with water. By replacing the aggregate with PLA, the concrete becomes lighter in weight and potentially more flexible. Increased flexibility or flexural strength means materials can sustain more weight by bending without any permanent damage. Kharbanda plans to experiment and gather results relating to the effectiveness and efficiency of the PLA-concrete blend.
Kharbanda will be testing various samples of PLA concrete containing different sizes of plastic. Each sample will have one piece of plastic with diameters ranging from 2 mm to 10 mm. The size of the models of concrete will depend on how large the plastic piece is because the plastic part will consistently stay 10% of the total mass. These samples will be put through a compression test to assess the material's strength as well as a flexural test to see how much force the material can support without breaking.
So far, only a smaller-scale trial run has been conducted due to a lack of suitable equipment at SPA. "The results look promising," Kharbanda adds. Currently, he is still working on crushing and breaking down the PLA into smaller pieces, but he has already completed building a concrete mixer and molds for the mixture to harden for the actual experiment. After he finishes adding the plastic to the concrete mix and letting it set, he will head to the U of M to conduct his final testing. "I contacted a professor at a lab at the U of M and I will work with them," Kharbanda explains.
He predicts that after maximizing the efficiency and strength of each blend of PLA and cement, he will get a material that is both sustainable and stronger than regular concrete. "My research could be one small step in reducing the harmful impacts our current practices have on the earth's warming climate," Kharbanda said. More research into the field of reducing environmental impacts and climate change could improve many individuals' overall quality of life and lengthen the lifespan of Earth.